It was last year when the Culture, Media and Sport Committee prompted the Premier League chief executive Richard Scudamore to say the "B word".
"We are often shown how the Bundesliga and the way German football is organised is better than us," he grudgingly replied. While everyone else is warned about minding their effing and ceeing, Scudamore is often averse to uttering a four-syllable institution which is steadily embarrassing the Premier League.
"Germany within Germany is extremely popular. Premier League within this country is extremely popular. Taking it around the world to those 211 other countries other than ours, we are far more popular than the Germans are who do not export very well."
Or maybe they don't have to?
As impressive as the BT deal will look on Scudamore's CV, he has contributed to the hollow environment the Premier League has become (remember the 39th game idea?). The Best League In The World™ slogan is a myth when the Bundesliga has quietly been the finest division on the continent for the last three seasons. In terms of its matchday experience, ticket prices, atmosphere and quality of football, Germany's top tier is unrivalled and comparison's with the Premier League are an affront to those in Deutschland. Now even the jingoistic faction is acknowledging their superiority after its two best teams slaughtered the Spanish giants 4-0 and 4-1.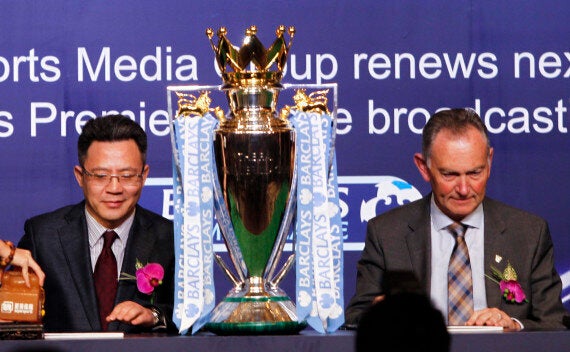 Richard Scudamore plugs the brand in Beijing
Supporters of Bayern Munich or Borussia Dortmund, who seem set to play out this year's Champions League final at Wembley, are in for a culture shock. Wembley, a plasticised shopping mall of a stadium, cost £798 million. Dortmund's magnificent Westfalenstadion cost an estimated €200m in 2006 while Bayern's Allianz Arena "damage" was merely €340m. Both are ranked as two of the best stadiums in Europe for their awesome atmospheres, where supporters enjoy safe-standing, drink beer on the terraces and watch some of the finest German players for decades.
Six years ago, Bayern showed a level of empathy with their supporters which would be deemed alien in England, when they converted two further blocks into terracing during the 2006/07 season. At Dortmund, you can watch Jürgen Klopp's likeable and vibrant team for €11 (£8.95). A season ticket costs as little as €190.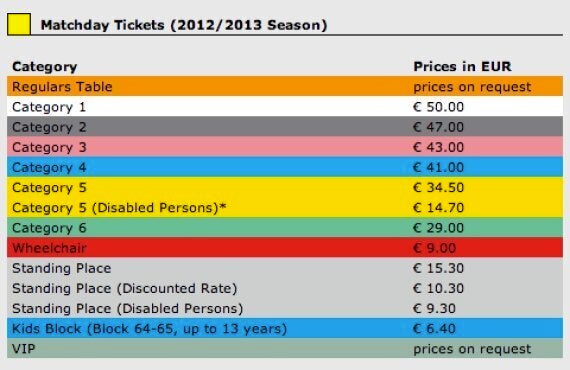 The cost of a ticket at Dortmund
Meanwhile in England, Manchester United are paying tribute to the late Margaret Thatcher by proposing an ID scheme for supporters. Measures announced for the 2013-14 season included the proposal for "identity and match-going status of all current loyalty pot members to be re-validated" via "some form of ID collection".
One journalist wrote a risible piece in the wake of Thatcher's death lauding her for saving football in England when she did her best to kill it. The Kenilworth Road riot in 1985 caused Luton Town's then chairman, Conservative MP David Evans, to ban all visiting supporters from the start of the 1986-87 season, and implement a scheme for home fans to carry identity cards when attending games. What must Sir Alex Ferguson, who once commanded a reporter not to "compare me with that woman", think of his club's homage?
The Football Association's general secretary Alex Horne, in response to the FA Cup final kicking off at 5.15pm, last week referred to supporters "consuming their football". A disheartening and detached quote, it epitomised the bureaucratic attitude English football's hierarchy oozes. The last train back from Euston for Manchester City and Wigan Athletic fans is 9pm, but, as the FA chirped, you can always take the National Express. That's National Express, Official Coach Partner of the FA.
Sussed supporters watched Bayern and Borussia in envy and awe, with their on-pitch performances the least impressive aspect, thanks to the hypnotic choreography and support. Mario Götze's transfer to Bayern was announced the day before Dortmund hosted Madrid, but he was barely jeered as the home supporters rallied around the team, cherishing a first European Cup semi-final in 15 years.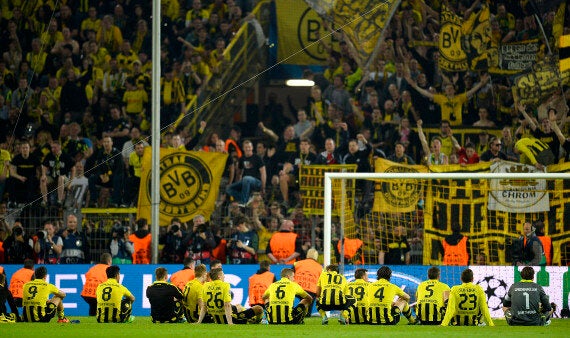 Clubs are not saddled with debt or owned by oligarchs, instead benefitting from the "50% plus one" rule, which requires Bundesliga clubs to be owned by their members. The exceptions are historic, such as Wolfsburg, owned by Volkswagen, Bayer Leverkeusen, owned by the pharmacy giant Bayer, and Hoffenheim, funded by entrepreneur Dietmar Hopp. The Bundesliga is set to benefit from an improved TV deal, but there is a clear commitment to retain the league's purity.
Scudamore may cite the presence of English teams in seven of the last eight Champions League finals, but the Premier League's regression began before Manchester United and Chelsea's fortuitous final appearances in 2011 and 2012. Both were outclassed by their opponents and the German clubs' rise to prominence was inevitable. Both Bayern and Borussia have proved you can achieve success without depending on a sugar daddy.
English football's arrogance prevents it from following the the much-lauded German model, but one club raised the spirits of the disenchanted recently. However far Portsmouth have fallen (five years on from their FA Cup win, they will be relegated to League Two), they are now a fan-owned club and out of administration.
"That was like Robin Hood, taking from the rich." And the richer Premier League are feeling poorer.
Popular in the Community