Forecasters this evening confirmed Thursday as the hottest day of 2013 - but warned the balmy summer-like conditions are about to give way to days of chilly temperatures.
Parts of the UK basked in glorious sunshine Thursday afternoon as the heat soared to 23C (73.4F), beating the previous record set two weeks ago, at 22C (71.6F).
St James's Park in London saw the day's hottest conditions, while parts of southern Lincolnshire, East Anglia, Surrey, Kent and greater London also saw the mercury peak in the low 20s.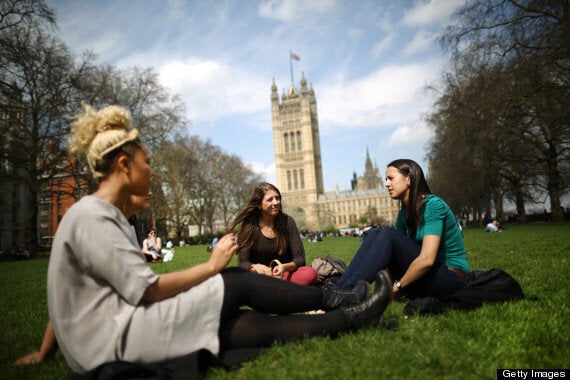 People take a lunch time break in Victoria Tower Gardens
But sun-worshippers have been told to make the most of the summer-like conditions while they last, with the UK expected to be faced with temperatures in the low 10s from tomorrow and into the May bank holiday weekend.
Laura Caldwell, forecaster with MeteoGroup - the weather division of the Press Association - said: "It was warm across the south and the south east of England. There are quite a few 20s and 21s.
"But it will be quite chilly for the next week to 10 days across the country, going into the bank holiday."
She said temperatures will struggle to get above 12C (53.6F) on Friday, hitting around 8C (46.4F) in parts of Scotland.
Alice Marsden of the Weather Channel said: "It's feeling a lot cooler from Friday and over the weekend.
"Gardeners beware of frost on Saturday night with temperatures as low as minus 2C at dawn on Sunday in rural parts of mid Wales and across the Midlands
"Next week may be even colder still with temperatures struggling to reach 8C in the SE and East Anglia by Wednesday and Thursday with a biting NE wind and rain. So from T-shirts back to jumpers, coats and umbrellas. All this is as a result of the jet stream taking a big southerly detour over the NE Atlantic and western Europe.
This cooler weather looks set to continue to the early part of May too, but we are hopeful that a large area of high pressure will begin building for the Bank Holiday on 6th May to bring settled and nearer normal temperatures again."