Car manufacturer Hyundai has come under fire for a provocative advert which appears to show a man's suicide attempts being thwarted because the car only emits water vapour.
Holly Brockwell, an advertising copywriter, whose father committed suicide in the manner depicted in the advert, posted an open letter to the car company and its advertising agency Innocean, who have now removed the offensive film.
Brockwell included a picture of her Dad, and a copy of his suicide note, after posting the video.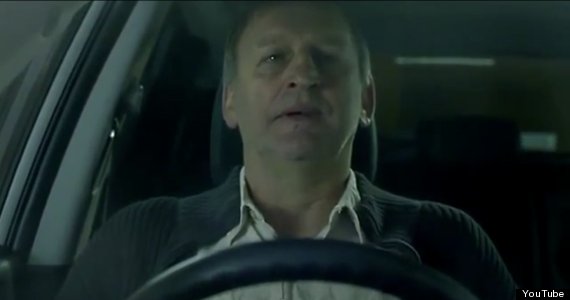 A still from the controversial Hyundai advert
Brockwell continued: "When your ad started to play.. I began to shake.
"I shook so hard that I had to put down my drink before I spilt it. And then I started to cry. I remembered looking out of the window to see the police and ambulance, wondering what was happening.
"I remember mum sitting me down to explain that daddy had gone to sleep and would not be waking up, and no, he wouldn't be able to take me to my friend's birthday party next week.
"No, he couldn't come back from heaven just for that day, but he would like to if he could. I remember finding out that he had died holding my sister's soft toy rabbit in his lap.
"Surprisingly, when I reached the conclusion of your video, where we see that the man has in fact not died thanks to Hyundai's clean emissions, I did not stop crying. I did not suddenly feel that my tears were justified by your amusing message. I just felt empty. And sick. And I wanted my dad."
A spokesman for Hyundai said: "Hyundai understands that the video has caused offence. We apologize unreservedly. The video has been taken down and will not be used in any of our advertising or marketing."
The Huffington Post UK has chosen not to post the video of the advert.
The Guardian included the ad in its run-down in the best ads of the week, commenting: "If you thought the Über commercial was risky then take a look at this viral advert for Hyundai."
Science writer Ben Goldacre called the advert "unbelievably misguided". He added on his blog: "It has been shown repeatedly that suicide increases in the month after a front page suicide story.
"And it's not pie in the sky to suggest that the media should be careful in how they discuss suicide. After the introduction of media reporting guidelines in Austria, for example, there was a significant decrease in the number of people throwing themselves under trains."
Advertising and media site The Drum made the advert the "Ad Of The Day" on 19 April and admitted it would court controversy, saying: "This viral is bound to put the cat among the pigeons but even its harshest critics won't be able to deny that it manages to communicate its message."
Need help? In the UK, call The Samaritans on 08457 90 90 90. For more support and advice, visit the website here.