Oscar-nominated actor Don Cheadle has admitted that the chances of him acting again in a film like multi-Award winning 'Hotel Rwanda' are slim.
"Hotel Rwanda would be very hard to make nowadays, almost impossible. Not in the American studio system," he explains in London, where he's promoting 'Iron Man 3', in cinemas this week. The gritty drama telling the story of one man's battle in the middle of the Rwandan genocide would fail to make the cut now, he thinks.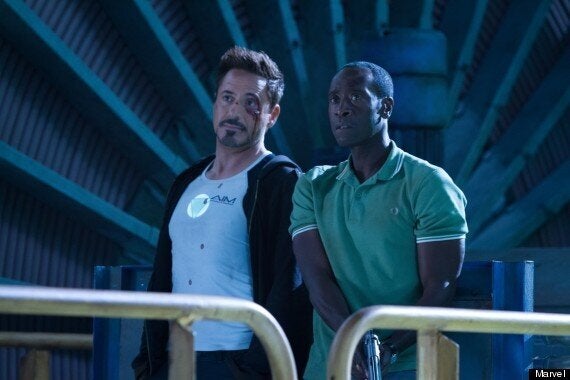 Don Cheadle co-stars with Robert Downey Jr in 'Iron Man 3'
"I think it's all hinges and swings, I don't think it's gone forever, but it's more about the financing side of things, and the kinds of projects that studios will take risks on, or won't any more. You have a movie that's either $10million or under, or $80million or above, then you have a shot.
"Everything's a sequel or a title that's being recycled or a fairytale or a big summer tentpole movie, or you have to find an irrational investor not concerned with foreign sales, and is prepared to roll the dice. It's harder to make movies where you have characters who are challenging.
"Cable TV's a place where you can do a lot of things you don't get to do in American cinema anymore. I'm having a great time on cable. All the writing is there, and you're not worried about that first weekend not performing, and it's gone. You can nurture ideas there, and that's missing in our business as film makers right now.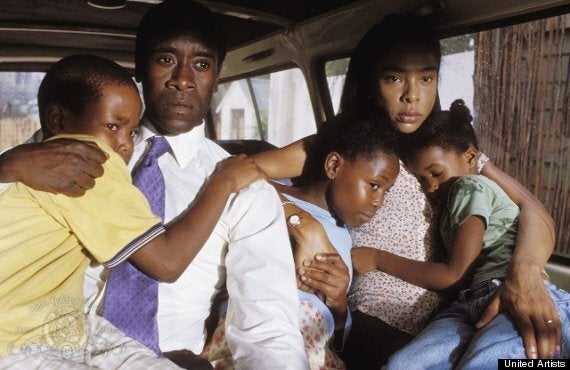 Don Cheadle with Sophie Okonedo in 'Hotel Rwanda' - a film he believes would be impossible to get made now
Cheadle stars opposite Robert Downey Jr in 'Iron Man 3', in cinemas this week, where he reprises the role of Rhodes, Tony Stark's soldier pal, who becomes the US's secret military machine, dubbed Iron Patriot, which meant Cheadle stepping into the famous suit...
"It's very heavy, really cumbersome, you can't touch your face. If you want to have a drink of water, you have to have a straw with someone literally feeding you. Then they hold the weight off me while I'm shooting. You think they'd be able to come up with a lighter version, don't you? How much money do they spend? It doesn't actually have to be metal.
"I think it's a joke, I think it's just to see how much you'll take."
That's as far as preparation goes... with the admitting he doesn't go too far to bulk up for his on-screen 'Iron Man' antics, in comparison with how he goes about readying himself for his lead role as a slick management consultant in 'House of Lies'...
"The concern is more when I'm doing the TV show, and I'm going to be naked. That's when I really have to worry about all that stuff."
'Iron Man 3' is in UK cinemas this week. Images below...