New BBC director-general Tony Hall has defended the Panorama documentary on North Korea which was criticised for putting university students at risk after they accompanied an undercover film crew into the communist country.
Hall told the Culture, Media and Sport committee that he was "satisfied" the London School of Economics (LSE) students were aware of the BBC's plans that saw journalist John Sweeney pose as a student to gain entry to the secretive state.
He said he was "satisfied" there "had been clarity about what was going on, i.e. a journalist was going to North Korea".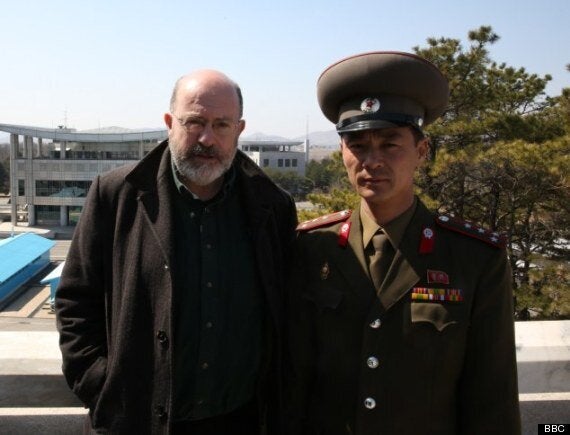 The BBC's John Sweeney poses with a North Korean soldier
He said the BBC's severe risk team had carried out a risk assessment for the students and concluded "the likelihood of them being found out and then deported was the biggest risk", but said the assessment did not cover any potential risk to the North Korean guides who accompanied the group.
Hall said there was "a public interest" in the programme being broadcast and it said "new things" about the country.
He said the students were spoken to three times about the plans, including once by a "senior member of the Panorama team", before they entered the country and told the committee he would meet with academic representatives to discuss issues around potential threats to academic freedom and research.
Hall said he would have preferred the students to sign written consent forms but "the judgment at the time was it was safer for them to know less".
BBC Trust chairman Lord Patten said he was certain the trip and the subsequent programme would be investigated by the BBC Trust's Editorial Standards Committee and "a good deal of material" would be made available then.
He confirmed that Peter Sutherland, who chairs the governors of the LSE, had complained to the trust about the programme.