The Football Association has branded Luis Suarez's bite on Branislav Ivanović as "truly disgusting behaviour" and said the Liverpool striker didn't appreciate "the gravity and seriousness" of his conduct.
Liverpool confirmed today Suárez would not appeal his 10-game suspension for biting the Chelsea defender, meaning he is ruled out of domestic games until September.
Following his acceptance of the ban, the FA has revealed the reasons behind the length of his latest spell on the sidelines.
The FA report said: "It seemed to us that Mr Suarez has not fully appreciated the gravity and seriousness of this truly exceptional incident.
"However, the incident of biting an opponent is alien to football and must remains so. It is completely unacceptable and such truly disgraceful behaviour could also lead to possible health issues.
"We also felt that the purpose of our decision should not only be a punishment to Mr Suarez for the offence committed, but must also be sending a strong message that such deplorable behaviours do not have a place in football.
"Mr Suarez contended that, whilst not seeking to diminish his own actions, it is his reputation that has been damaged. The incident was not the type, which calls into question the wider reputation of football as most reasonable observers would have concluded that the fault for the incident lies solely with Mr Suarez and not the football authorities or governing bodies."
The FA also referred to the impact of the incident, citing how Suárez became the top trend on Twitter worldwide after he bit Ivanović.
Surprisingly, the three-man independent panel, which included former Ipswich Town and Arsenal midfielder Brian Talbot, claimed Suárez's past behaviour had no bearing on the suspension.
The Uruguayan has totted up 19 games worth of suspensions in England now, having received an eight-game ban for racially abusing Patrice Evra and a one-match suspension for flashing an obscene gesture at Fulham fans. He has never been sent off playing for Liverpool.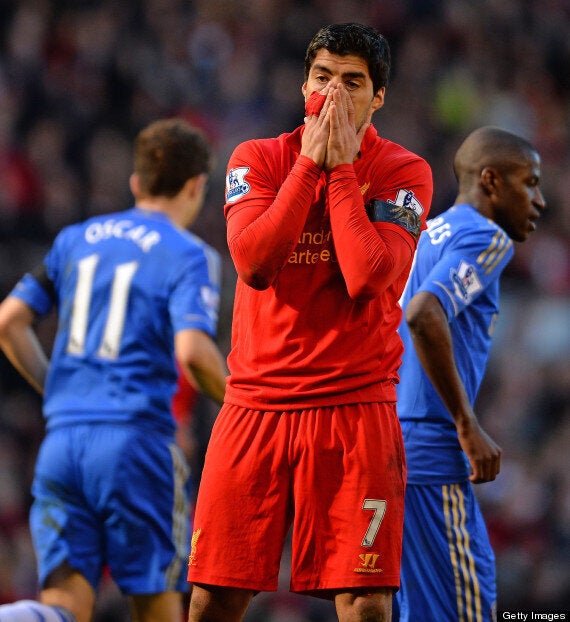 Suárez may not play a competitive match in England again until September
Suarez released a statement earlier in which he said he elected not to appeal because he realised his behaviour was unacceptable. He said: "I am truly very sorry about the incident with Branislav Ivanovic. I hope that all the people who I have offended at Anfield last Sunday will grant me forgiveness."
Suarez's statement added: "I know that all the things that are happening to me in England will help me improve my conduct on the field. Right now I just want to focus on becoming a better footballer on and off the field.
"I would like to explain to everybody that I decided to accept the ban because whilst 10 games is clearly greater than those bans given in past cases where players have actually been seriously hurt, I acknowledge that my actions were not acceptable on the football pitch so I do not want to give the wrong impression to people by making an appeal.
"I really want to learn from what has happened in the last two and a half years, many things have been said and written about me, I just tried to do my best on the field. I hope to come back early to play."