Mayor of London Boris Johnson has urged the government to resist the "great Moloch of aviation capacity" and rule out a third runway at Heathrow before the next election.
Attending a rally against expansion of the transport hub on Saturday, Mr Johnson said it would be "totally nuts" for the Conservatives to go to the polls without having buried the idea.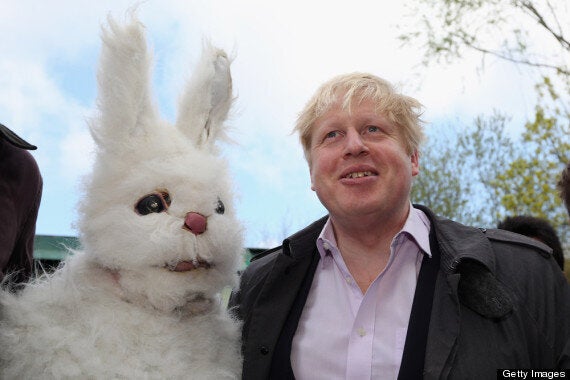 Boris Johnson and a fellow protester in south west London
He said: "It is just too difficult to deliver - 15 years at least it would take to bring about.
"Above all you would be inflicting noise pollution not just on west London but on huge parts of London that don't even know they are going to be affected.
"That is not the right way forward for the greatest city on earth."
The protest in Barnes, west London, attracted around 1,000 residents who live under the airport's flight path.
The Mayor has previously accused the government of kicking the controversial issue "into the long grass" by delaying an independent report on the future of aviation until after the next election.
He favours a new "Boris island" airport in the Thames Estuary or possible expansion at Stansted.
Asked if he was at odds with David Cameron over aviation policy, Mr Johnson said: "He has had to take a position that was against any more runways anywhere ever.
"That was the position in the south east which I don't think is realistic and he wants to look at the solution.
"What I am trying to get across is that there are brilliant solutions that will produce hundreds of thousands of jobs, that will take this country forward, but they don't include building a third runway at Heathrow.
"That is to entrench a historic mistake - Heathrow is fundamentally in the wrong place for long-term expansion.
"I think the prime minister understands that, but I think it's vital they rule it out before the next election."
Mr Johnson said his brother Jo, who was this week appointed head of Mr Cameron's policy chief, was "on the record as saying that he understands these points".
The crowds cheered as the Mayor arrived after cycling from his home in Islington, north London.
In what was a light-hearted affair, they also danced the hokey cokey at the instructions of compere Gyles Brandreth.
The cross-party rally was led by Conservative MP for Richmond Park, Zac Goldsmith, and attended by former transport secretary and MP for Putney Justine Greening and energy secretary Ed Davey.
Mr Goldsmith told the crowds: "No ifs, not buts, we will stop Heathrow expansion."
Meanwhile, Ms Greening made her first speech on Heathrow since she was moved to international development in September's Cabinet reshuffle amid speculation that it was due to her stance on the issue.
Richmond Council, which serves residents who live under the airport's flight path, is currently leading a referendum on the future of Heathrow.