A plane which came down in a field killing the pilot may have been flying in a group of replica historic aircraft, according to an eyewitness.
Investigators are continuing their examination of the scene to establish why the small civilian aircraft crashed at the Army Aviation Centre in Middle Wallop, Hampshire, at 4.55pm yesterday.
The pilot, the only person aboard the aircraft, died at the scene.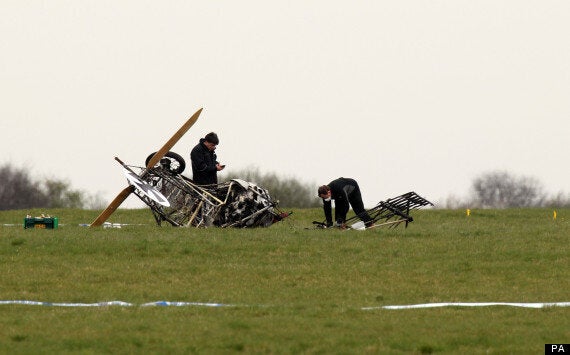 The incident is being investigated jointly by Hampshire Police and the Air Accidents Investigation Branch (AAIB).
Witness Nick Bayes, from Andover, said he saw about 12 planes in the air when the accident happened, some of which seemed to him to be flying close together.
He told the BBC: "I was returning home and saw a large number of replica aircraft doing circuits over the airfield. There were maybe a dozen or so in the air.
"It was unusual because they were so close together. If it was not a display itself, it looked like they were practising for a display."
He said that he did not see the crash itself but he saw smoke coming from where the aircraft came down.
He added: "The whole incident is very tragic."
A spokesman for the AAIB said: "The branch is aware of the incident and inspectors are investigating."
A Hampshire Police spokesman said: "Police are currently working with the AAIB to establish the cause of the crash and anyone with further information is asked to contact Hampshire Constabulary."
A Hampshire Police spokesman said that the pilot was a 68-year-old man from Horsham, West Sussex.
He added that the aircraft, which was a single-engine, single-wing replica World War One aircraft, had now been recovered.
The spokesman also confirmed that the aircraft had been taking part in a practice display at the time of the crash.