 The Duchess of Cambridge accepts a bouquet of flowers from Sally Evans
The Duchess accepted a bouquet of flowers from eight-year-old Sally Evans and she also received a timely reminder of her anniversary that made her blush - a craftwork creation of the children's character, the Hungry Caterpillar.
It was made on cotton, the traditional gift couples exchange after being married for two years.
Dressed in a coral coloured Tara Jarmon coat and a peach dressmaker dress Kate toured the Naomi House hospice near Winchester meeting children with life shortening conditions their parents, staff and volunteers.
Professor Khalid Aziz, chairman of trustees at Naomi House, could not let the second wedding anniversary pass without comment or a present.
After Kate, who is more than six months pregnant, chatted to more than a dozen youngsters who had sat down to a tea party, the professor told the duchess whose visit marked Children's Hospice Week: "It's especially special that you came here today because today is a very special day.
"Two years ago to the day, you were in a slightly larger building then this one - probably not having quite as much fun.
"But you did it very well, we were all totally enthralled. I just hope Prince William is taking you somewhere nice tonight."
He added: "So anyway congratulations on your wedding anniversary and we thought we'd give you something not only to say thank you for being here but something to commemorate your anniversary because it's on cotton and possibly something that you might be able to use in the nursery."
He told those at the back of the room: "In case you can't see it, it's the Hungry Caterpillar and it's been made by the children at Naomi House."
The framed picture of the caterpillar, made from felt and paper, from the children's book the Very Hungry Caterpillar, illustrated and written by Eric Carle, also featured fingerprints of all the hospice's children which were used to create leaves.
Naomi House cares for children and young people with life limiting conditions meaning they are unlikely to live to adulthood.
The charity provides care to families and young adults living in communities across the seven counties of Berkshire, Dorset, Hampshire, Isle of Wight, Surrey, West Sussex and Wiltshire.
Children's Hospice Week lasts until Friday and is run by UK children's palliative care charity Together For Short Lives.
In the video, which lasts just under two minutes, Kate, who is Royal Patron of East Anglia's Children's Hospices (EACH), said she had seen first-hand the "transformational" work done for children and their families.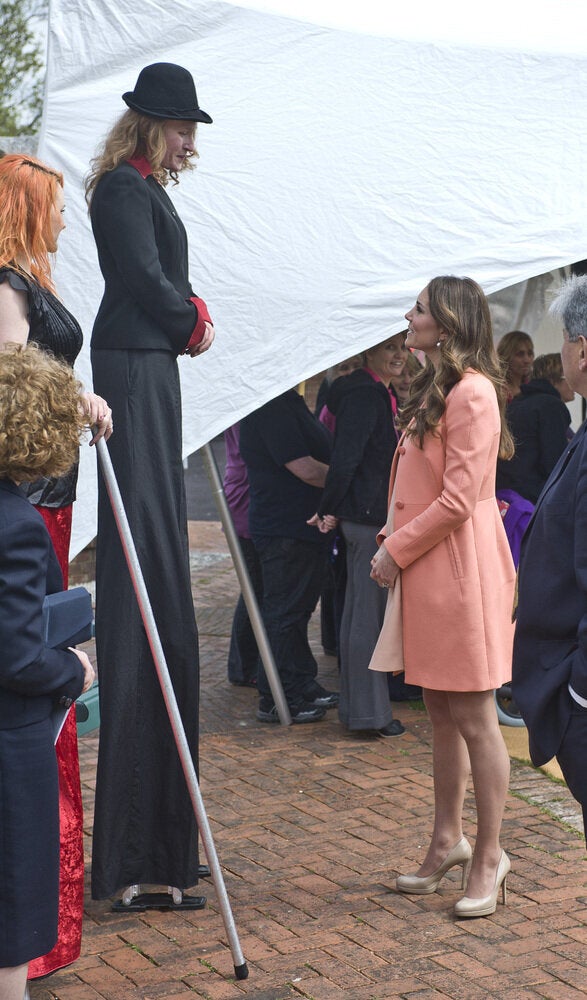 Duchess Of Cambridge In Hampshire