Primark has agreed to compensate victims of the building collapse in Bangladesh which killed more than 350 people.
The disaster struck the building on the outskirts of the capital Dhaka last Wednesday, since when rescuers have continued to desperately search for survivors. There may still be more victims buried in the building
Many of those who died in the eight-storey Rana Plaza worked for a company that supplies clothes to Primark.
A statement from Primark said: "We have partnered with a local NGO [non-governmental organisation] to address the immediate needs of victims, including the provision of emergency food aid to families. This initiative began in Bangladesh immediately the extent of the disaster became clear.
"Primark will also pay compensation to the victims of this disaster who worked for its supplier. This will include the provision of long-term aid for children who have lost parents, financial aid for those injured and payments to the families of the deceased."
The company also urged other retailers who used the building to offer help and support to those affected.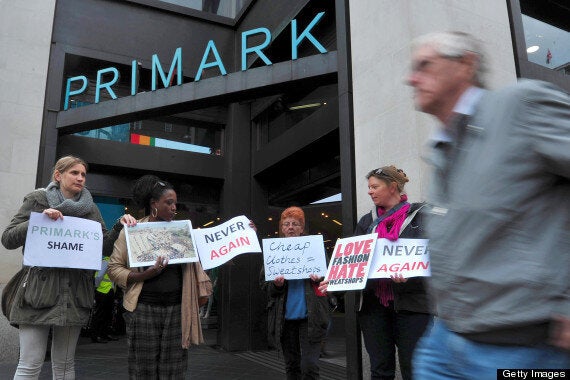 Protesters outside Primark's flagship shop in London on Saturday
War on Want, which organised the protest, said that although the disaster was a tragedy, it was not an accident.
"If UK high street chains like Primark had put in place proper measures to ensure the workers who make their clothes are safe, these deaths could have been avoided," the charity said, adding: "It is vital that Primark pays full compensation to the victims and promise to act to ensure these horrific tragedies never happen again."
On Sunday, the owner of the building was arrested apparently attempting to cross the border into India.
Popular in the Community