Amanda Knox has proclaimed her innocence in an emotional American television interview, as she prepares to release her autobiography.
In an ABC News programme, to be broadcast on Tuesday night, Seattle-born Knox said she was called a "devil" in court by prosecutors after the murder in 2007, who accused her of killing Miss Kercher in a sadistic sex game.
Knox, who is facing a retrial in Italy for the murder of British student Meredith Kercher, told the broadcaster that what happened to her "could happen to anyone". Amanda Knox at her ABC interview
In March this year, an Italian court overturned her acquittal and she and her former boyfriend Raffaele Sollecito will face a re-trial. But Knox said she has no plans to return to Italy.
Leeds University student Miss Kercher, 21, was found stabbed to death in the flat she shared with Knox in Perugia in Novermber 2007. Knox was arrested five days later.
A year later, Rudy Guede pleaded guilty to the murder and was sentenced to 16 years in prison.
In December 2008, both Knox and Sollecito were convicted of murder and sexual violence, but acquitted in October 2011.
Knox told ABC News' Diane Sawyer: "I was in the courtroom [in Italy] when they were calling me 'devil'.
"It's one thing to be called certain things in the media and then it's another thing to be sitting in a courtroom, fighting for your life, while people are calling you a devil.
"For all intents and purposes, I was a murderer - whether I was or not. And I had to live with the idea that that would be my life." Amanda Knox, left, speaking during an interview with ABC News' Diane Sawyer in New York Knox told Sawyer: 'For all intents and purposes, I was a murderer'
This week it was also revealed that Knox wrote to the parents of murdered British student Meredith Kercher, insisting she had not killed their daughter - but the letter was never sent.
She made the claim in her book Waiting To Be Heard, which is published in the United States on Tuesday.
"When Meredith was murdered and I was arrested, it was so shocking. It was paralyzing. Everything toppled," Knox told People.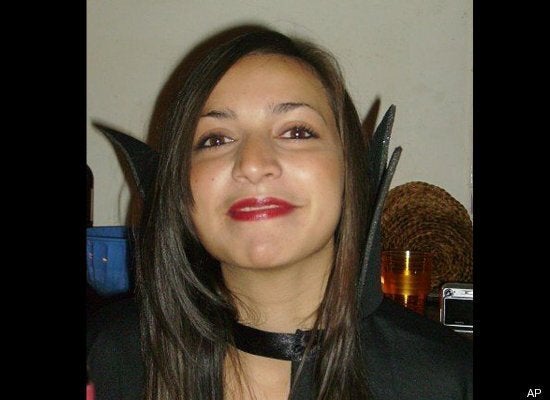 Amanda Knox Timeline