Borussia Dortmund celebrated like a team that had reached their first Champions League final in 16 years, as they enjoyed a friendly on-pitch mosh pit after their semi-final second leg at Real Madrid.
Madrid struck twice in the last 10 minutes for a nervous finale for the Bundesliga team, however Neven Subotić and Mats Hummels were superb at the heart of Dortmund's defence.
BVB opted for a similar celebratory routine after their 2012 Bundesliga title win, only that was in the expansive team bath.
Charismatic coach Jürgen Klopp swiftly turned his attention to the Wembley final after the match, when Dortmund will most likely face Bayern Munich on 25 May. Their German rivals will defend their 4-0 first leg lead over Barcelona tonight.
He said: "The final will be one of the greatest moments in our lives, but I will say that when we are there we don't want to be tourists.
"It doesn't matter which team we play against, we will not be the favourites. But that's the perfect role for us, and five million supporters of Dortmund will enjoy it and everyone at Wembley will see we are not satisfied to be a finalist, we want to win this final."
He added: "I just had a TV interview and I was about to explode with joy. I have lived many things in my career but I cannot compare them to what happened here, if I had lost in this semi-final it would have been a great sadness. It was a very close situation, of course.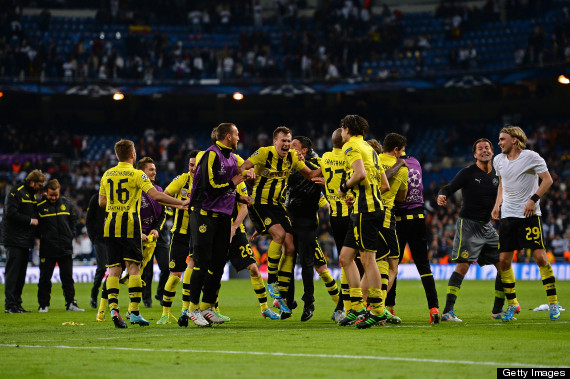 Kevin Großkreutz appears to have been accidentally stamped on during the celebrations
"I never thought this would happen but now it has, I'm so proud of my team, they are so young, and every time they have done something they have done it well.
"This is absolutely special and this is why I am so motivated."
Klopp explained how he felt in the final eight minutes of the game, following Benzema's opening goal.
"In this moment I thought, if God is willing, we will go to the final, if we don't make it, we know why.
"It was a bit dramatic in the end, despite the fact we had a lot of counterattacks that led to opportunities to take the lead.
"We knew that Madrid would take an aggressive approach and we managed to calm things down after 20-25 minutes, but we definitely have ourselves to blame for allowing Madrid back into the game as we missed a couple of good chances. Dortmund apparently are an all-inclusive club, so we always make things exciting, one way or another".