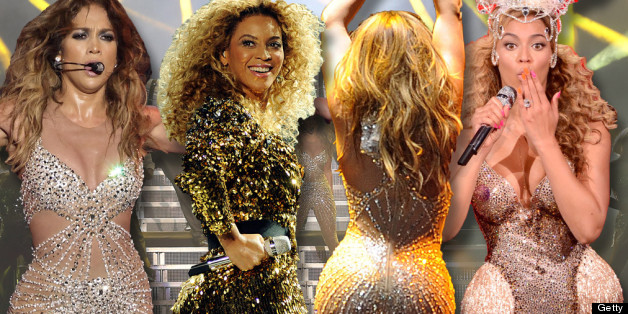 Getty
Two of pop music's biggest divas, adored not only for their music but for their ample derrières, will appear on the same stage on 1 June.
Jennifer Lopez has been added to the bill of Beyonce's charity stadium show being staged at Twickenham. J-Lo joins stars such as Rita Ora, John Legend and Florence + The Machine for the Chime For Change event, which will raise money for women's causes around the world.
Also newly announced for the event are James Franco, Blake Lively and Jada Pinkett Smith, who will all be guest presenters. INTERVIEW: John Legend speaks to The Huffington Post UK about teaming up with Beyonce for the concert.
The show is being organised by promoter Harvey Goldsmith, who was behind Live Aid and Live 8 and will be broadcast around the world.
Frida Giannini, co-founder of charity Chime For Change, said: "Thanks to Beyonce and the amazing line-up of performers and presenters, the stage at Twickenham on 1 June will be filled with powerful voices of change who believe that girls and women everywhere deserve the right to be educated, healthy, safe and celebrated."
The Chime For Change campaign brings together a range of voices, from women's advocates and experts to business leaders and philanthropists. "Our goal is to call for change for girls and women in the loudest voice possible," Beyoncé said in a video message.