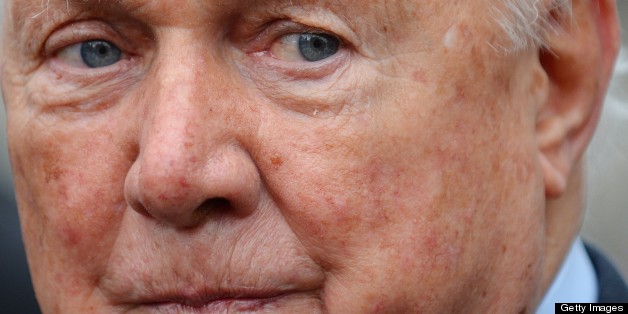 Getty Images
The case of Stuart Hall is likely to add fuel to the debate over whether those accused of sexual offences should be given anonymity unless proven guilty.
Lancashire Police have confirmed that publicity surrounding the former BBC broadcaster's initial arrest led to more victims coming forward.
But on the day of his confession a poll found that three quarters of the public believe rape suspects should not be named until they are convicted.
The survey carried out by ComRes on behalf of the Independent found there was strong public support for those accused of sex assaults to have their identity protected.
Under current legislation, people who complain they have been the victims of sexual offences automatically receive anonymity, but suspects do not.
Police said that after the publicity surrounding his initial arrest, Hall was subsequently charged with abusing 10 more girls and the rape of a 22-year-old woman, between 1968 and 1986.
Bob Satchwell of the Society of Editors said: "With the recent upsurge of calls for offenders to remain anonymous until convicted, it is worth noting that if Stuart Hall had not been named when he was arrested he might never have been brought to court. None of his victims knew one another.
"There is a huge danger of secret justice replacing rights of the public, and indeed defendants, back to Magna Carta.
"It is time someone put a stop to this frightening trend."
Around 76% of people in the poll agree with the statement that "people accused of a sexual assault should be given anonymity until they are proven guilty".
The poll found 18% disagreed and 6% did not know.
There was a difference of just 4% between the number of women (74%) and men (78%) who supported a reform in the law.
Jill Saward, who became the first UK rape victim to waive her right to anonymity in 1990, told The Independent she felt "incredibly sad" about the findings.
"People do not understand the danger involved in sexual violence, and don't see the need to protect people from it," she said.
"I am very sad that people seem to think that protecting men is often more important than protecting those who, for whatever reason, end up victims."
But senior lawyer Maura McGowan, chairwoman of the Bar Council, argued earlier this year that the law should be changed because allegations of a sexual nature "carry such a stigma".
McGowan told the BBC that she would support a change in the law to protect the identities of sex assault suspects.
"Until they they have been proven to have done something as awful as this - I think there is a strong argument in cases of this sort, because they carry such stigma with them, to maintain the defendant's anonymity, until he is convicted," she said.
A spokeswoman for the charity Rape Crisis warned against giving those accused of sexual offences anonymity.
She said: "Rape Crisis (England and Wales) is concerned that singling out rape and sexual assault for defendant anonymity would send a message that women who report these crimes are more likely to be lying than people who report other kinds of crime.
"This is sadly a commonly held and damaging myth which we know through our frontline work often prevents women and girls who've experienced sexual violence from coming forward to seek the justice or support they want and deserve for fear of not being believed."