Sir Alex Ferguson has only ever lost 10 times to Manchester City in over 26 years, but often the result is brutal. The 5-1 in 1989, 4-1 in the first game at what is now the Etihad Stadium, 3-1 in the final fixture at Maine Road, 2-1 in the week of the 50th anniversary of the Munich air disaster and 1-0 to effectively hand City their first title in 44 years last year. The 2011 6-1 was the worst, but it came with a silver lining.
Michael Carrick did not start in the defeat that left Ferguson shaken, in fact he wasn't even in the 18-man squad. He was injured but had he been fit the aforementioned sentence could easily have applied. Carrick had arguably been demoted to fourth-choice in United's limited midfield after a tentative first 45 minutes in the Community Shield. Trailing City 2-0 at half-time, Ferguson introduced Tom Cleverley for his debut, who produced a man-of-the-match display as United came back to win 3-2.
The following week, Ferguson entrusted Cleverley and the £25 million Anderson at West Bromwich Albion in midfield, and the new axis started the following three games as United put three past Tottenham, eight past Arsenal and five past Bolton. Cleverley was withdrawn after only eight minutes at the Reebok following a crude challenge from Kevin Davies and was replaced by Carrick, who started the midweek Champions League opener at Benfica yet was overlooked in favour of Darren Fletcher for the visit of Chelsea.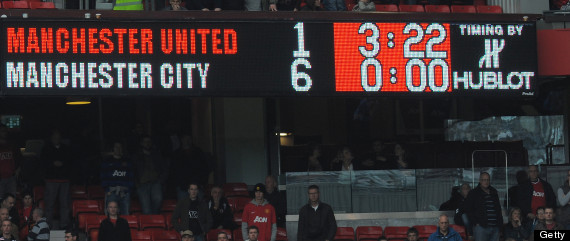 City announced their superiority over United in October 2011
Despite United's vibrant start, they were notably porous. With no investment made in a midfield insurance policy and Rio Ferdinand and Nemanja Vidić's injuries depriving a defence of experience, the warning signs were mounting. Arsenal could feasibly have scored five rather than the two they netted and Chelsea, beaten 3-1, were unlucky to have been defeated, let alone by two goals.
The winning league run came to a halt at Stoke when Carrick was again excluded from the matchday squad as Fletcher and Anderson struggled against the bruise brothers of the Britannia. Fletcher's ulcerative colitis had yet to be disclosed after the club said he had been suffering with a debilitating virus, but his drop in weight was profound. An important player for United between 2008 and 2010 when Owen Hargreaves was MIA, he had been in decline since the 2010-11 season while Anderson, his numerous shortcomings aside, lacked a disciplined leader beside him.
Yet Ferguson did not heed the warnings and the tonking duly came courtesy of City. Fletcher and Anderson were predictably overrun and outfought, while common sense deserted United's defenders as City's final three goals resembled a lunchtime football scenario of a team losing players who have rushed back for afternoon registration.
In between the Stoke and City results, Carrick returned to the starting XI for Basel's Champions League visit. Ferguson's tombola selection didn't work and Basel came from two goals down to go 3-2 ahead, only to be denied by an Ashley Young equaliser. Carrick and Anderson was an unadvisable partnership dating back to Liverpool's 4-1 win at Old Trafford in 2009 which, much alike City's triumph, was registered after weeks of teams letting United off the hook.
So dire a state was United's midfield in Cleverley was rushed back for a 1-0 victory at Everton. Predictably he got injured and belatedly Ferguson turned to Carrick to restore order. He started his first league game of the season in November at Swansea and he has been a fixture in the United team ever since.
Their best and most consistent performer the past 18 months, Carrick should have won the club's Sir Matt Busby Player of the Year ahead of Antonio Valencia last year, but his chances are greater this time. It is testament to his determination he could now finish his career with the club he joined in 2006, less than three years after it appeared his manager was determined to sell him.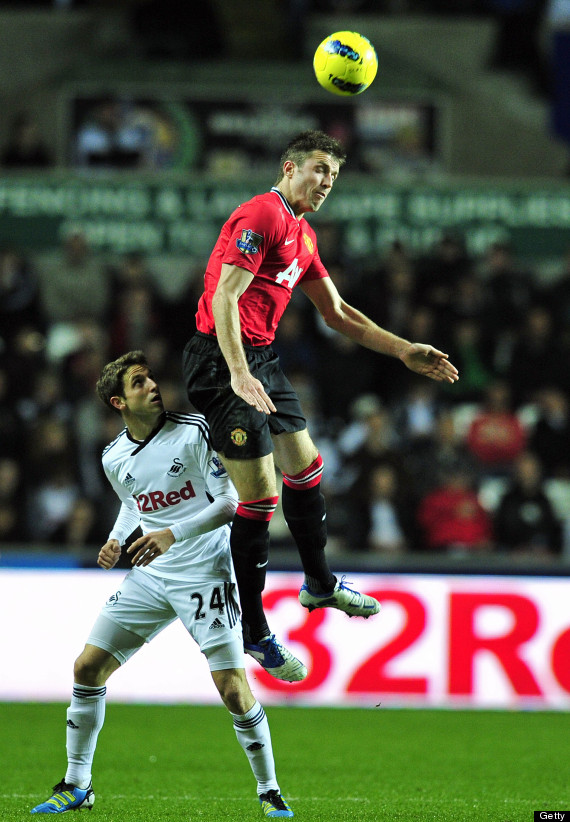 Back in the fold at Swansea in November 2011
Known to hold a grudge, Ferguson did not start Carrick in the final four league games of the 2009-10 Premier League campaign. Carrick was culpable for Bayern Munich's two goals as United were ejected from the Champions League in the quarter-finals on the away goals rule, and four days later he was dropped from the squad for the uninspiring 0-0 draw at Blackburn. Gabriel Obertan and Darron Gibson sat on the substitutes' bench instead of him.
Carrick played just 50 more minutes of football that campaign, with Gibson preferred to him for the Manchester derby. Already that season he was punished after having a penalty saved in the ignominious defeat at Burnley with a seat in the stands for United's next game at Wigan. Ferguson's lack of faith seemed to have stemmed from Carrick's passing deserting him in that year's Champions League final, although the Scot's failure to compensate for Fletcher's suspension made the result a fait accompli.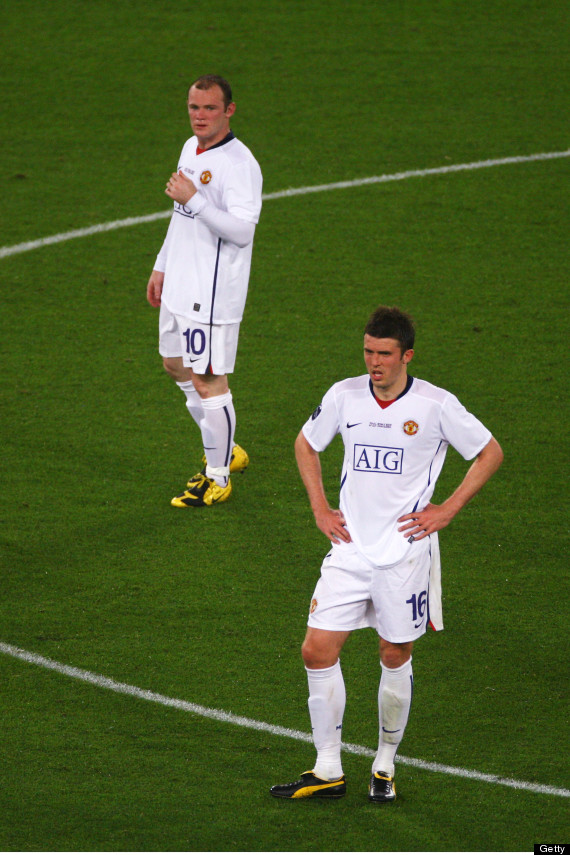 Rubbish in Rome: United's Carrick tactic backfired against Barça
Unconvincing and unreliable for large spells between 2009 and 2011, he was however hampered by his manager's negligence in reinforcing United's midfield. Ferguson has bought a player in literally every position apart from United's soft centre since Owen Hargreaves joined in 2007, spending almost £200m in the process.
When Carrick signed a three-year contract in March 2011, most United fans were surprised. He had experienced an underwhelming campaign and the edgy fanzine RedIssue's front cover of Carrick and reviled chief executive David Gill - infamously nicknamed "Capable Hands" - bore the headline "Capable Hands Signs Incapable Feet". The speech bubble emanating from the duo read: "I can't believe I'm still getting away with this."
Now he is no longer an unsung hero. Pilot's Magic has been rejigged to "It's Carrick, you knowwww, it's hard to believe it's not Scholes" and the chant is, like "Cheer up Kevin Keegan", "Mourinho, are you listening?" and "Viva Ronaldo", the song of United's latest title-winning season. It's hard to believe it's not Scholes
Blindingly overlooked by past England coaches, Roy Hodgson has finally recognised how pivotal Carrick is and the 31-year-old is a regular for the Three Lions. Like Scholes, Carrick boasts some famous fans in Xavi and Xabi Alonso, while his performance against Internazionale in the San Siro four years ago prompted one Italian newspaper to gush "Bellissimo Carrick".
"I would choose Carrick," Arsène Wenger said of his PFA Player of the Year. "He is a quality passer. He could play for Barcelona, he would be perfectly suited to their game. He has a good vision and is an intelligent player, and it is for what he has achieved in his whole career as well. It is this year or never for him, just because he is 31 and after, they go down."
Although Robin van Persie has scored 29 goals and earned United 21 points in the league, Carrick is the club's player of the year. Rarely has a player so emphatically decided the destination of the English championship as Van Persie, but his two month slump between February and April coincided with United's elimination from Europe and the FA Cup. The Dutchman missed several good chances versus Real Madrid and Chelsea. Carrick meanwhile has rarely played badly, and his one-man show despite United's midfield malaise is the mark of a controlled, yet class footballer.
He is also one of Ferguson's most pivotal signings. Without a league in three seasons, his £18m arrival from Tottenham in 2006 brought balance to a squad which regained its Premier League crown from Chelsea. And now he has been instrumental in regaining it from City. This time, it's a golden lining.