A 51-year-old man and his eight-year-old daughter were killed when they were thrown from a speedboat during a family holiday in a picturesque coastal town on Sunday.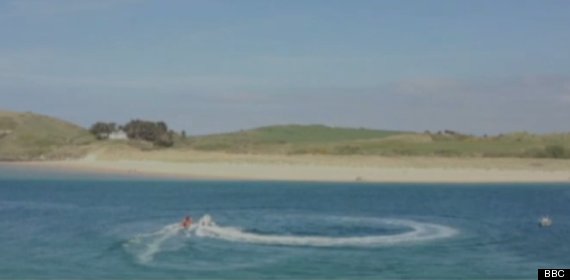 The speedboat out of control in the harbour
The man's wife and three other children are being treated in hospital for their injuries, some of which were described by Devon and Cornwall Police as "life changing". The family, from London, was in Cornwall for the Bank Holiday weekend when the accident happened in the Camel Estuary near Padstow on Sunday afternoon.
Emergency services said the man and girl were declared dead at the scene. A 39-year-old woman, a four-year-old boy and two girls aged 10 and 12 were airlifted to Derriford Hospital in Plymouth with a range of injuries. Senior investigating officer Superintendent Jim Colwell of Devon and Cornwall Police said some of the injuries were "life threatening" as well as "life changing".
The force has launched an investigation and the boat, which was owned by the family, has been taken away for examination. Dozens of members of the public are believed to have witnessed the accident, in which the victims were hit by the "out of control" boat. Maritime and Coastguard Agency spokeswoman Jo Rawlings said: "There were reports that six people had been thrown off a speedboat, and that the speedboat was out of control for a short time."
999 operators received their first call from a mobile phone at 3.48pm and were inundated with more calls seconds later.
Around that time, the popular harbour area was bristling with people enjoying the sunshine who were able to see the incident just half a mile off the shore.
A major search and rescue operation was launched involving RNLI lifeboats from Rock and Padstow, helicopters from RNAS Culdrose and RNB Chivenor and coastguard rescue teams from Newquay, St Merryn and Polzeath. The man and girl who died are yet to be formally identified, but their next of kin have been informed.
Ms Rawlings said it had been "a busy day" for the Padstow area, meaning there were many potential witnesses. She added: "It has been a busy day for the area around Padstow, it's been nice weather and a Bank Holiday weekend, a lot of visitors have descended on the coast."
Celebrity chef Rick Stein, who has four restaurants in Padstow, tweeted: "Our thoughts are with injured and bereaved involved in the tragic accident in Padstow this afternoon." Supt Colwell said the boat is privately owned by the family. He said: "It is a tragic incident, and is subject to a police inquiry supported by the Marine Accident Investigation Branch. "Witness accounts will form essential lines of inquiry, and we will be submitting information to the coroner's officer in due course."
He also told the BBC in a separate interview: "The circumstances leading up to it, what caused the occupants to enter the water, will be examined over the coming days and weeks." Consideration of what the boat was doing at the time of the incident, and a mechanical examination of it, would also feature in the investigation. Rescue workers rushed to the scene
He praised the agencies involved in the rescue operation. "I have to thank them for the work that was done, in very difficult and distressing circumstances. The agencies responded really effectively. This is a tragic incident, but it could have been worse." Witnesses claimed heroic actions by passers-by prevented more lives being lost. Writing on Facebook, Maria Chase said: "We were down in Padstow today and saw the tragedy and saw a hero who saved more lives by jumping on to an out-of-control speedboat from another boat."
An amateur video was shown on the BBC that appeared to corroborate her account. In the footage, the speedboat is seen going around in circles before someone intervenes. Charlotte Jacobs took to Twitter to write to the RNLI, saying: "We witnessed incredible bravery in Padstow today during the tragic accident that unfolded. The men involved deserve medals."
Locals have expressed their shock at the tragic events. Chef Paul Ainsworth wrote on Twitter: "Very sad day in Padstow, our hearts go out to all family and friends involved. Life can be so cruel."