'Apprentice' winner Stella English said she is "ready to move on" after losing her high-profile constructive dismissal claim against Lord Sugar and plans to launch her own fashion label inspired by Victoria Beckham.
NEW: Lord Sugar denies sexing up The Apprentice
The mother-of-two sued the Labour peer after resigning from the £100,000-a-year job that was her prize for winning series six of the BBC1 show in 2010 but had her case dismissed.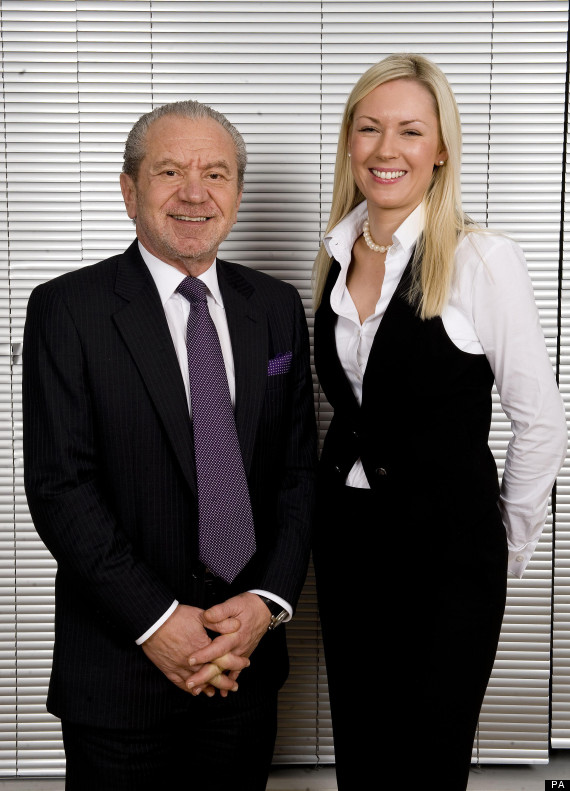 Stella English with Lord Sugar, in happier times before the recent lawsuit which English lost
She told Hello! Magazine: "I'm ready to move on to the next phase of my life. My career is just beginning, not ending."
Stella said she went to the tribunal because she wanted to be heard, adding: "I wanted the opportunity to say what I was disappointed about and I certainly feel I've got it off my chest now.
"I've drawn a line under it. It has been a very difficult time and I'm very sorry it ended the way that it did. But I'm now earning twice as much money as I did when I worked for Lord Sugar, so it has worked out for the best."
She said she was shocked when Lord Sugar called her a "money grabber" and admitted it was "very, very hurtful", but added: "It's up to him how he chooses to convey his thoughts. I think mine are best said at home behind closed doors."
Stella praised her husband, Ray, for giving up work as a plumber to look after their children Edward, six, and Frank, four, at their home in Whitstable, Kent.
She said: "He's watched me go through this gruelling process; he has been the one to pick up the pieces. He found it very hard to hear his wife being called a 'liar' and a 'money grabber' and to watch me go to court. Poor guy, he has got a lot of grey hairs from the last six years of being with me. But he's very proud to see I'm no walkover."
The 34-year-old said the inspiration for the Miss English label, which aims to design clothes for businesswomen, came from hearing Victoria Beckham talk about her design career.
She said: "Victoria said that when she first launched her label, everyone was very dubious about it. But she is one of the world's most influential designers now. That is so inspiring and it further cemented for me that this is what I want to do. She's also a mother of four, with a teenager and a baby... she says it's okay to talk about your children, which is refreshing. Everything she said, I thought, 'My goodness, I want to do that.'"
Lord Sugar launched the new series of 'The Apprentice' last week, dodging questions about his recent lawsuit. The ninth series starts on Tuesday evening, with a fresh twist to the procedure.
This is the latest bunch of candidates ready to put themselves to the test for Lord Sugar. Who do you think has it in them to win?
The brand new series of 'The Apprentice' returns to BBC One at 9pm on Tuesday 7 May
MORE 'APPRENTICE' PICTURES...