The boys on 'Girls' may have all sorts of trouble dealing with the women in their lives but, in real time, Alex Karpovsky says life could not be sweeter with Lena Dunham at the helm of the hit show.
"I love Lena to death," says the actor who plays barista Ray Ploshansky. "I love her as a friend and colleague. She can always separate her acting from her directing, it's extraordinary how she does it.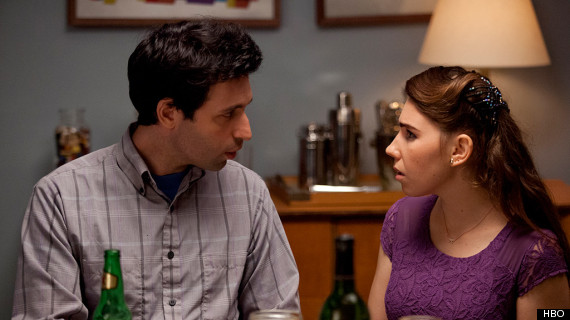 Ray and Shoshanna - in love, but... it's complicated
And how does he feel about Ray? "I love him, but I'm very frustrated with him, it's a very conflicted relationship."
At the centre of Ray's life is his relationship with the much younger Shoshanna, who loves him but is troubled by his lack of ambition. This is not a charge that could ever be levelled at Karpovsky, a busy writer-actor-director in the mould of his film hero, Woody Allen, whose New York screen sensibility he's happy to share... "authentic, self-analytical, neurotic, it's all there."
Why does Karpovsky keep himself so busy? "I don't have anything else to do," he tells me, deadpan. "I have no girlfriend, no hobbies, I work for something to do." When pressed, he admits that, during the few hours he spends away from the creative process, he is a happy birdwatcher.
I don't believe life is as solitary as all this, but it's a convincing evocation of solitude Karpovsky brings to the screen in 'Rubberneck' - a thriller, where his lonely scientist character Paul becomes obsessed with a work colleague, with increasingly chaotic, brutal results. I do wonder from where the chilling narrative brewed within him, but he says simply, "I do like a character-driven thriller, I think it's my favourite genre."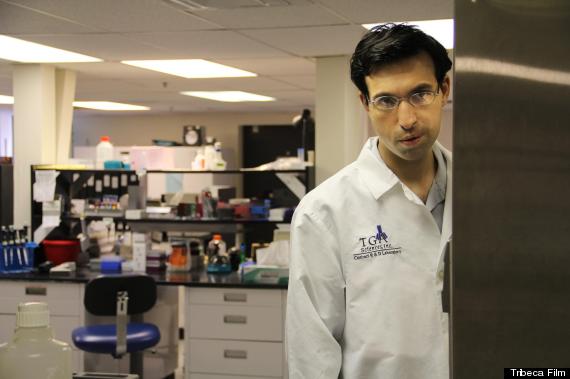 Karpovsky is disturbingly believable as the lonely Paul in 'Rubberneck'
His other current offering, 'Supporting Characters', is a far more sociable affair, sitting in the world of New York film edit suites, where long hours and intense relationships, often with the people they're staring at on screen for hours, can lead to confusion in romance and motives.
"This is a film about the ability of everyone to mess up a good thing," he explains. "These characters have a lot of things going in their favour, but they seem hell-bent on self-sabotage. Their frustrations and confusions would bubble forth. And we do, of course, write about what we know."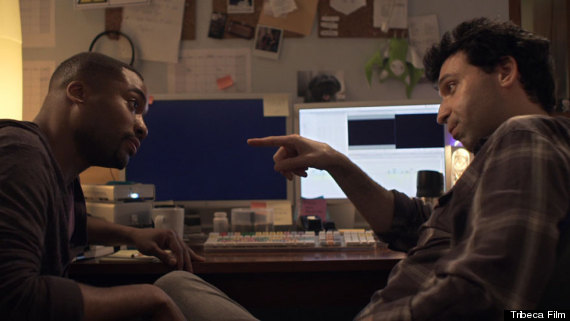 'Supporting Characters' is set in a world familiar to Karpovsky
It's an environment Karpovsky knows all about - he was a film editor before moving in front of the camera.
"I had no strong desire to act, it didn't turn me on, but I had to put myself in my first movie, because I couldn't think of anyone else prepared to go two years with the same haircut.
"It's nice, though, to act now, and not carry the burden of the whole production."
Which brings us back to his glorious success with 'Girls'. Professionally speaking, has a corner been turned?
He agrees, almost reluctantly, that this is the case - "but I don't care to think about it too much, I don't think that would be helpful to me."
Woody Allen would be proud.
'Rubberneck' and 'Supporting Characters' are available now to UK viewers via Tribeca Film On Demand on iTunes, Virgin Media and Playstation. Watch the trailers for both below...