Bonnie Tyler is adamant that she won't be disappointed should the worst happen at the Eurovision Song Contest. She's not worried about getting nil points, and swears she'll only be disappointed about one thing.
"If I don't like what I've done, I won't be happy," she tells HuffPostUK. "As long as I'll be happy with my performance when I come off that stage, and I don't fluff up or fall over, I won't mind at all what the scores are."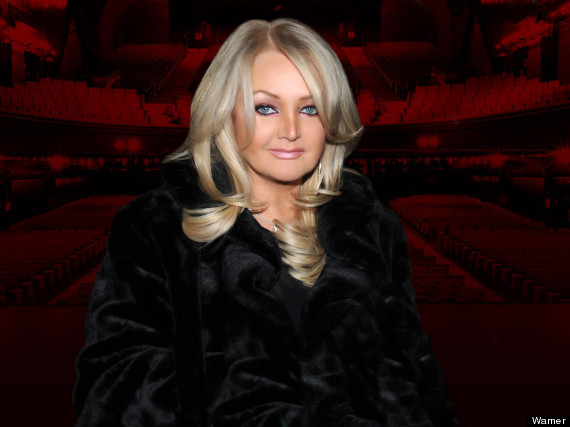 Bonnie Tyler is prepared for the worst, hoping for the best, at the Eurovision Song Contest
Even the prospect of the dreaded nil points at Malmo, Sweden, in a couple of weeks? "Going to take it on the chin," she smiles.
So just another gig then, for the Welsh songstress whose career is still going strong with tours after 35 years? "No. It's a bit nerve-wracking, because there'll be people there, not just to see me as I'm used to. I'll be very happy to see a few British flags flying."
The Welsh songstress has been getting advice from a handful of Eurovision alumni...
"Katrina (and the Waves) told me, 'it's hard work but enjoy yourself. Your feet won't touch the ground.' Nicky from Brotherhood of Man told me to enjoy it. And Graham Norton (who comments on the show for the UK, told me, 'Oh, Bonnie, pace yourself, go easy over there.'"
Bonnie's equally excited about the release of her album 'Rocks and Honey' - her first new material for eight years, written and recorded in Nashville and so titled following a studio session for her duet 'What You Need From Me' with multi-Grammy award winner Vince Gill.
"Once we'd finished singing, one of the engineers told us, 'your voices blend, yours is so rough like rocks and his so smooth like honey, and ' and I thought, now that's a good title."
Many singers might buck at such a description, but they'd be the ones without the sales and hits of Bonnie, thanks to her trademark husky sound. She doesn't mind at all, and nor does she mind wheeling out the old favourites for her fans as far as Russia...
"I always include the classics, people want to hear them. 'Holding out for a Hero' is the last of my set, and I never get tired of singing 'Total Eclipse of the Heart' (1983, total sales now exceeding 9 million). I sing it much better now than I used to. I think my voice is probably not as husky as it was, I think it's mellowed a bit."
'Total Eclipse' was nominated for a Grammy, and Bonnie had her own pinch-me moment standing on the stage in LA
"I looked out and I could see Michael Jackson, Diana Ross, and I had to come down these stairs, singing. I just thought, 'I'm going to fall, I'm going to fall...' but I didn't."
Malmo's going to be a breeze.
Bonnie Tyler's new album 'Rocks and Honey' is out now. Bonnie will be singing at the Eurovision Song Contest on Saturday 18 May. Watch her entry here...