One bookmaker cut the odds on David Moyes becoming Sir Alex Ferguson's successor at Manchester United to 1/2 from 7/2 over the weekend, following a flurry of bets. Ferguson, a vocal admirer of Moyes' management and longevity at Everton, may not be alone in appreciating the Everton manager but he is in a dwindling minority.
The current campaign could be a watershed one for Moyes. His loyal defendants have defected, or flirted with the idea, of joining the growing band of Evertonians unconcerned should he leave Goodison Park this summer after 11 years. The 3-0 mauling at the hands of Wigan in the FA Cup quarter-final, as well as the failure to claim victory at one of the big boys' grounds again, are just two reasons to suggest he and Everton's matrimony is a stagnant one.
So imagine the surprise of supporters both Evertonian and Mancunian when it was announced a "flood" of bets had been placed on him managing United. Scot swap?
However, here are five reasons why it would be a disaster...
1. HE HASN'T WON ANYTHING
Everton have reached one final in Moyes' 11 years and, despite the scoreline, it is not unkind to compare the 2009 FA Cup final to the one-sided contests of 2004 and 2005. Louis Saha gave Everton the lead after just 25 seconds, and for the remaining 89 minutes and 35 seconds Everton unsuccessfully attempted to defend that lead, even at 1-1. Moyes suffers in the sun as Everton lose the 2009 FA Cup final
Such negativity was on display in last year's semi-final against Liverpool, who also came from a goal down to win 2-1, while Everton's attitude in the League Cup has been bizarrely frivolous for a side without a trophy in 18 years. Joe Royle, with an inferior Everton team, lifted silverware in 1995, and the notion Moyes should replace a manager with 13 titles in 20 years sounds perverse.
2. NEGATIVITY
Already touched upon briefly, Moyes' approach has often left Everton fans infuriated. You could count the amount of times he has started two strikers on two hands, and the team's mentality at Old Trafford, Anfield, the Emirates, Stamford Bridge and the like resembles a team in the bottom six, rather than a team in the top six.
For United fans born in the 80s and beyond, Moyes could be their generation's Dave Sexton. Tommy Docherty's successor in 1977, Sexton won nothing in four years and was derided for the dull football which was the antithesis to Docherty's vibrancy. He was sacked after winning seven successive games.
3. POTENTIAL FANS' BACKLASH
Whatever the age of a United fan, they will likely have a gripe with Moyes, whether it is the parallels with Sexton or the dust gathering in Everton's trophy cabinet. He does not stand out as an inspiring figurehead and probably would not generate confidence amongst a support renowned for its factions in the Glazer era.
Belligerent and occasionally aloof, that lack of charisma is also crucial. Irrespective of their success, Sir Matt Busby, Docherty, Ron Atkinson and Ferguson oozed charm in different ways, which got United supporters onside.
4. SUPERIOR CANDIDATES
Ferguson is scheduled to undergo a hip operation in the summer - which perhaps explains the sudden rush of bets - and should Moyes leave Everton, in the mad world of football it is not an outlandish thought that he will join United on a strictly interim basis while his fellow Scot recovers.
But whether interim or permanent, Moyes' pedigree is inferior than others linked with the Old Trafford post, and he does not deserve to be mentioned in the same breath as two-time Champions League or Bundesliga winners, despite boasting enviable experience of the Premier League.
5. TRANSFER DEALINGS
It may be a tad unfair to criticise a manager who has spent under £140m in 11 years and who signed Phil Jagielka, Leighton Baines and Joleon Lescott for £15m combined, but the summer arrival of Steven Naismith - and his subsequent performances - has seen the former Rangers man likened to the dross the Walter Smith era served up.
Moyes' loyalty to the workmanlike Leon Osman is an indication of his fondness for steel over silk and last month he questioned the impressive Kevin Mirallas' toughness.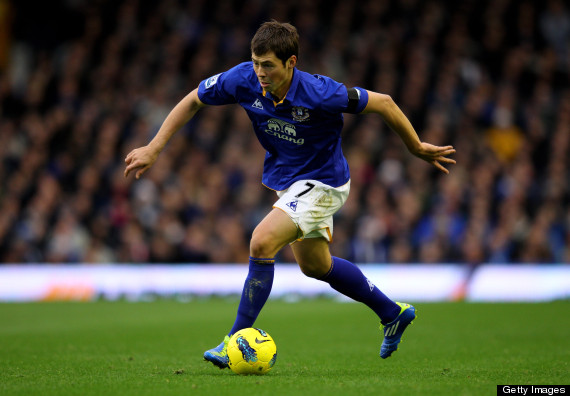 Bilyaletdinov was a peripheral squad member at Everton
Diniyar Bilyaletdinov, a mercurial Russian midfielder, was often subjected to frank analysis from Moyes before he left Goodison in 2011. His father Rinat opined he had "stagnated" due to Moyes's supposed negativity.
"If he [Moyes] had got more out of his defensive players, then his creative players wouldn't have dropped off so much in recent years," Rinat Bilyaletdinov said.