One of the world's most influential visual effects maker, Ray Harryhausen, has died at the age of 92, his family has announced.
Los Angeles-born Harryhausen, who helped create monsters and other animated creatures for films including Jason and the Argonauts" and The Beast From 20,000 Fathoms in a career that lasted more than 40 years, died in London on Tuesday.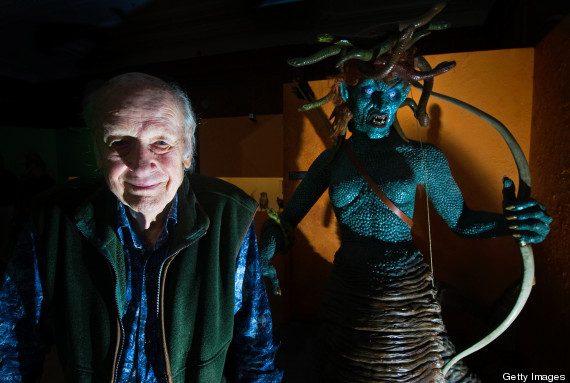 Ray Harryhausen worked on some of the greatest special effects films of the 1940s and 1950s
"The Harryhausen family regret to announce the death of Ray Harryhausen, visual effects pioneer and stop-motion model animator," the family said in a statement.
"Ray's influence on today's film makers was enormous, with luminaries; Steven Spielberg, James Cameron, Peter Jackson, George Lucas, John Landis and the UK's own Nick Park have cited Harryhausen as being the man whose work inspired their own creations."
Harryhausen had a hand in some of the greatest post-war special effects movies, including Mighty Joe Young in 1949, One Million Years BC in 1966 as well as three films based on Sinbad and Clash of the Titans.
One of his most famous animation sequences was the fight scene in Jason And The Argonauts involving seven skeletons who come to life. The sequence took him three months to film.
Peter Lord of Aardman Animations paid tribute to Harryhausen, describing him as "a one-man industry and a one-man genre" on Twitter, the BBC reported.
The animator left more than 20,000 objects from his collection to the National Media Museum in Bradford.