'The Apprentice' gives us a double helping in its launch week, with tonight's episode finding the 15 remaining candidates battling to create and sell the perfect beer.
WATCH three clips from tonight's show in the video above.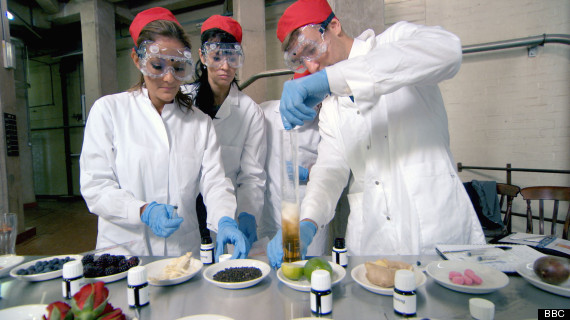 Evolve, with Tim at the helm, struggle to create a beer in the right proportions
Because his own business scheme put before Lord Sugar involves a beverage, Tim is separated from the other boys and told to lead the girls' team Evolve.
Meanwhile, Kurt - who works in the drinks business, and who we didn't hear much from during the first show on Tuesday - is made project manager of Endeavour.
The girls have got a bit to prove after their poor show in Episode 1, which saw their project manager Jaz given the boot, so they can probably do with some of Tim's bobbing enthusiasm.
Both teams must spend the first day concocting their beer, the next day selling it. However, one team nearly doesn't make it to Day 2 with a product in their hands.
So who has what it takes? Let's meet this year's candidates...
MORE 'APPRENTICE':