Sir Alex Ferguson's retirement after 26-and-a-half-years as Manchester United manager aptly comes in the same year Pope Benedict XVI retired. One United fan joked that Lou Macari's Chip Shop, a cult haunt on the Warwick Road, would send out black smoke signalling the Scot's departure.
Over the course of 13 Premier League titles, five FA Cups, four League Cups, two European Cups, a European Cup Winners' Cup, an Intercontinental Cup and a Club World Cup, United fans have been spoilt by a plethora of sublime footballers to have pulled on the red shirt.
SIR ALEX FERGUSON'S 13 TITLE WINS RANKED IN ORDER
Here is Ferguson's finest XI...
GOALKEEPER: PETER SCHMEICHEL
Although Edwin van der Sar is largely credited with revolutionising the goalkeeper's role, Schmeichel was instigating attacks years before the Dutchman. Hailed by Ferguson as the "bargain of the century" (£530,000), rarely a game would go by without the Great Dane plucking a ball out from the air and launching the size five to the halfway line where Andrei Kanchelskis or Ryan Giggs would be waiting to prolong the counter-attack. His performance in the 1999 Champions League final kept United on life support and it was in Europe where he executed his finest save when, against Rapid Vienna, he drew comparisons with Gordon Banks thwarting Pelé. Imposing and a regular match-winner, he didn't have as good a defence in front of him as Van der Sar did, which made his goalkeeping all the more extraordinary.
RIGHT-BACK: GARY NEVILLE
As Mancunian as the Stone Roses, his tribalism and love for the club overshadowed just how accomplished a defender he was at right-back and even at centre-back. As Ferguson once opined, "If he was an inch taller he'd be the best centre half in Britain. His father is 6ft 2in – I'd check the milkman." Neville excelled at providing ammunition for a number of expert marksmen in red for almost two decades but his defensive nous was impeccable. It is testament to his ability and dedication that until injury in 2007 he was still the best right-back for his club and country.
CENTRE-BACK: RIO FERDINAND
The Lars von Trier of footballers – an acquired taste who nevertheless produces excellent results. Ferdinand's brashness, commercial activities and flirting with Chelsea whilst haggling over a new contract grated with supporters, but he remains a world-class defender whose contribution to the 2007/08 league and European Cup-winning season was just as crucial as Cristiano Ronaldo's. Injuries, suspension and attitude have tainted his 11-year United career, but he is arguably the greatest natural defender the club has boasted.
CENTRE-BACK NEMANJA VIDIĆ
"He comes from Serbia, he'll f*****g murder ya." A refined Steve Bruce, Vidić is a world-class stopper whose physicality and intimidating stature compensate for his erratic distribution. Ferdinand may be the better footballer, but Vidic is the better defender – and with a knack for important goals too. His contribution in the 2008/09 title win was criminally overlooked in the awards season after Fernando Torres embarrassed him in March, but not by supporters and his teammates, who voted him as player of the year. It was richly deserved.
LEFT-BACK: DENIS IRWIN
The perennial unsung hero. Irwin was another giveaway (£625,000) from Oldham Athletic who was utterly dependable and a nerveless set-piece taker too. Unspectacular yet disciplined, Irwin offered another dimension to United's attack and arguably reformed the way British full-backs should function, witnessed by his last-minute assist for Roy Keane's winner at Maine Road in 1993. And before David Beckham had the monopoly on free-kicks, youngsters were endeavouring to recreate the Denis Irwin set-piece. He was an unerringly accurate dead-ball specialist outside the area and close to faultless from 12 yards out. Only Aston Villa's Michael Oakes denied him in 1999, only for Irwin to slot in four days later from the spot at the Anfield Road End.
RIGHT WING: CRISTIANO RONALDO
When a skinny, pimpled and ostentatious teenager danced around a hapless United XI in Lisbon to mark the opening of the José Alvalade stadium, no United supporter could have surmised that they were watching a player who would evolve into the club's finest since George Best. Ronaldo's first three seasons may have been his educational period, but he still scored in two cup finals and netted a brace at Highbury as the diamond was polished by Ferguson. From 2006 until 2009 he matured into the best player in the world – his seasonal scoring stats (six, nine, 12, 23, 42 and down to 26 – when his heart was in Madrid) underline the stratospheric rise. He could play badly in games yet still score twice, smashed in free-kicks and embarrassed the most reputable opponents. In his United career's epoch – the 2007/08 campaign – he scored against every opponent except Manchester City (he played them just once) and Barcelona (against whom he missed a penalty). To quote the chant, "Running down the wing, hear United sing! Viva Ronaldo!"
CENTRE MIDFIELD: ROY KEANE
Unquestionably the model example for any budding professional footballer that determination and the obsession to win can compensate for a lack of ability. Keane was uncompromising, snarling and a born leader who, by galvanising his colleagues and demanding the mythical 110 per cent, embodied his manager on the pitch. Like Ronaldo and Eric Cantona, Ferguson would turn a blind eye to certain faults his captain possessed because he was so indispensable and inspirational. In 2005 he won United's titanic nocturnal clash at Arsenal before the two teams had left the tunnel and his contribution in the 1999 Champions League semi-final in Turin remains one of the greatest individual performances in the club's history. Off the pitch, his frankness and empathy with supporters intensified the reverence.
CENTRE-MIDFIELD: PAUL SCHOLES
Aside from his refusal to play against Arsenal in a 2001 League Cup match, Scholes personified the professionalism Ferguson yearns for all of his squad members to display. "Get up, go to work, play the game, get showered, go home. No fuss," is the motto associated with the Ginger Prince, and his development as a United player signals his ingenuity. Converted from a striker into an attacking midfielder, he has played out the winter of his career as a regista.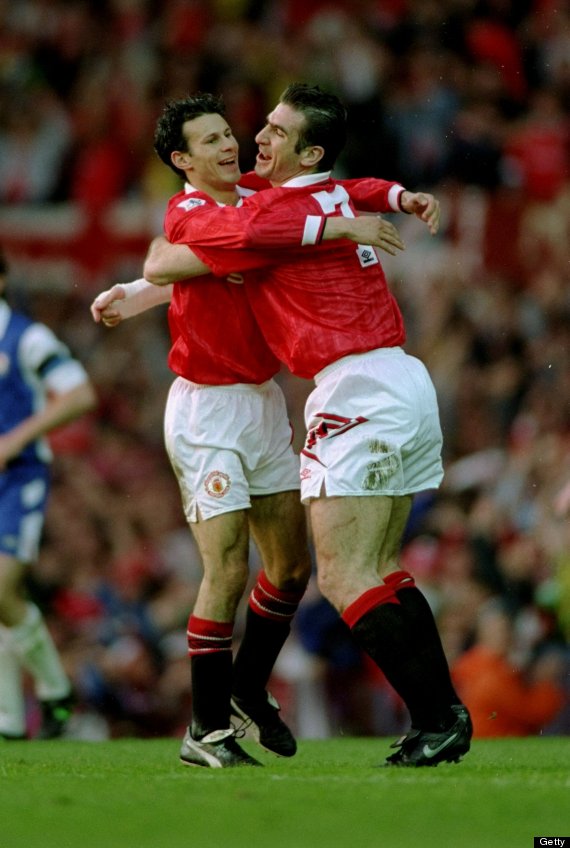 Giggs and Cantona celebrate the former's goal against Blackburn in 1993
LEFT WING: RYAN GIGGS
His longevity and collection of medals is unrivalled by anyone ever to have played in British football, yet his achievements have masked years of personal underachievement. When Giggs slotted home the title clincher at Wigan and the penalty shootout winner in Moscow it salvaged what had been such an execrable season that many Reds hoped he would retire on such a high. Ironic then that in the five subsequent years he has played some of his best football for the club, still leaving defenders with twisted blood and occasionally becoming the lynchpin well into his late thirties. United were often more reliant on the adopted Mancunian recently than when he was in his twenties, when his surges were so electrifying one commentator likened his pursuer as "like a Mini chasing a Porsche". Immortalised when he completed that wonderful run at Villa Park in 1999.
STRIKER: RUUD VAN NISTELROOY
The greatest goalscorer at the Theatre of Dreams since Denis Law and an advocate of Gordon Gekko's theory that "greed is good", Ferguson was right to retain his interest in signing the Dutchman after his transfer collapsed in 2000. In his debut season he banged in a remarkable 36 goals, scoring 150 for the Red Devils over the course of five seasons. Just one came from outside the area (Charlton away – 2005/06) but therein lies the mastery behind Van Nistelrooy – he was an arch poacher who could still score different goals despite all but one coming within the penalty box's radius. His solo efforts against Fulham and Arsenal stand out but one of the most abiding memories he offered came at Villa Park in January 2002. United, 2-0 down and with less than 15 minutes to go before an FA Cup 3rd round exit, halved the deficit through Ole Gunnar Solskjaer before Van Nistelrooy executed a brilliant brace to win the game and spark one of the most memorable pitch invasions in English football. Unfortunately for him, his potency came during a period of transition for the team.
STRIKER: ERIC CANTONA
Denis Law is the King, Eric Cantona is God. His chants are still aired religiously home and away and always will be, for he enjoys a following which the Holy Trinity of Best, Law and Charlton would struggle to rival as a collective, let alone individually. The enemy who crossed the Pennines from Leeds (for a paltry £1.25m), he was the catalyst who ended the club's 26-year title drought and elevated them to a new level of success. He scored great goals and created great goals, yet while the Gallic god's penchant for kicking hooligans, philosophising about seagulls and seeing the red mist occasionally overshadows his ingenuity as a footballer (he never carried his domestic bliss into Europe either), United had never experienced a period of success in such a short amount of time. Four league titles and two FA Cups (two domestic Doubles) were sealed in the five years of Cantona's reign.
SUBSTITUTES
Edwin van der Sar
Jaap Stam
Bryan Robson
David Beckham
Wayne Rooney
Ole Gunnar Solskjaer
Robin van Persie