A 28-year-old Brazilian woman has survived being shot in the mouth with a harpoon gun.
The spear penetrated Elisangela Borborema Rosa's jaw and became lodged in the vertebrae immediately below her skull, Brazilian news site G1 reports.
Rosa, who was apparently accidentally shot by her husband on Monday at their home in Arraial do Cabo, was rushed to hospital for emergency surgery to remove the blade.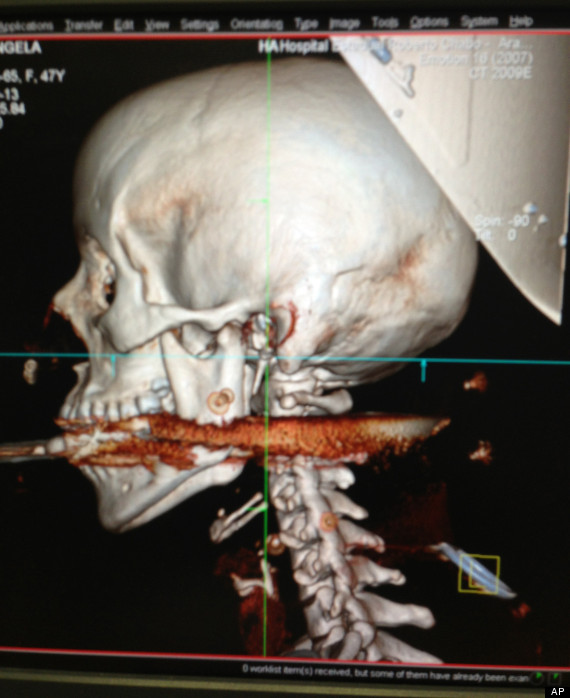 An X-ray shows how deeply the harpoon gun penetrated Elisangela Borborema Rosa's jaw
Neurosurgeon Alllan da Costa said: "This is the first case of its kind here at the hospital. A peculiarity of the accident is that the tip of the spear penetrated the region between the anterior vertebral canal and the spinal canal.
"If the object hit just an inch inside the patient would [be] quadriplegic if an inch out, [it would] reach an artery supplying the brain, leading her to death."
SEE ALSO: Vagina 'Murder Plot' - Brazilian Man Accuses Wife Of Poisoning Her Private Parts To Kill Him
Dr da Costa added he hoped Rosa would be discharged in a week.
A police officer told the Associated Press: "Everything indicates it was an accident, but we are investigating. We don't think the husband tried to kill her.
"But once she fully recovers we will be able to question her and get a clearer picture of what happened."