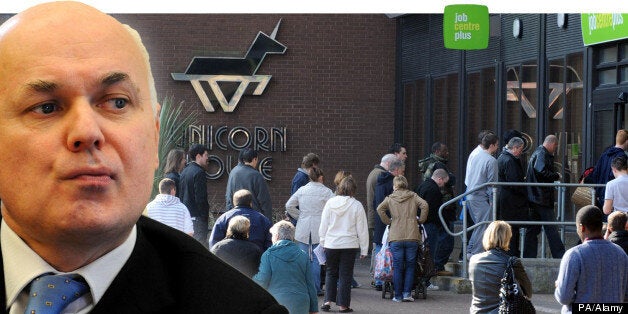 Iain Duncan Smith has been rebuked for falsely claiming the coalition's controversial benefits cap had already caused 8,000 people to move into jobs.
The UK Statistics Authority (UKSA) has written to the work and pensions secretary to tell him the claim was "unsupported by the official statistics".
Duncan Smith recently defended the coalition's welfare reforms by arguing "already we've seen 8,000 people who would have been affected by the cap move into jobs. This clearly demonstrates that the cap is having the desired impact".
The statistics agency investigated the claim following a complaint by the TUC. In a separate letter to the union, Andrew Dilnot, the chair of the UKSA, said Duncan Smith had not complied with the code of practice for official statistics.
"In the manner and form published, the statistics do not comply fully with the principles of the Code of Practice, particularly in respect of accessibility to the sources of the data, information about the methodology and quality of the statistics, and the suggestion that the statistics were shared with the media in advance of their publication," he said.
It is not the first time a senior government minister has been rebuked for mis-representing statistics. In February David Cameron was reprimanded by Dilnot for falsely claiming Britain was "paying down Britain's debts".
Full Text Of Andrew Dilnot's Letter To Iain Duncan Smith:
Dear Secretary of State

DEPARTMENT FOR WORK AND PENSIONS STATISTICS

9 May 2013

I have today replied to a letter from Nicola Smith at the Trades Union Congress regarding the recent publication of statistics about the benefit cap, and a copy of my reply is attached.

We have also considered the two short statistical reports published on 12 April against the criteria that the Statistics Authority has published for identifying material that should be regarded as official statistics and published in accordance with the Code of Practice for Official Statistics.1 These criteria are in essence that the statistics are used publicly in support of policy, or otherwise are seen to be of public significance. Clearly, the statistics in question qualify on both grounds.

In the manner and form published, the statistics do not comply fully with the principles of the Code of Practice, particularly in respect of accessibility to the sources of the data, information about the methodology and quality of the statistics, and the suggestion that the statistics were shared with the media in advance of their publication.

In March, when considering a complaint about the handling of statistics on child support, I was told that senior DWP officials had reiterated to their staff the seriousness of their obligations under the Code of Practice and that departmental procedures would be reviewed.2 The Board of the Statistics Authority would welcome further assurance that the working arrangements within the department give sufficient weight to the professional role and public responsibilities of statisticians.

I am copying this to Dame Anne Begg MP, Chair of the House of Commons Work and Pensions Select Committee; Bernard Jenkin MP, Chair of the Public Administration Select Committee; Sir Jeremy Heywood, Cabinet Secretary; Robert Devereux, DWP Permanent Secretary; and to Jil Matheson, the National Statistician.

Yours sincerely

Andrew Dilnot CBE
Popular in the Community