'The Big Wedding' is in cinemas from 29 May, and Huffington Post UK is pleased to offer readers the chance to see this comedy first at special preview screenings nationwide.
Robert DeNiro ('Meet the Fockers', 'Analyze That') and Katherine Heigl ('27 Dresses', 'Knocked Up') lead an all-star cast, including Diane Keaton ('Morning Glory', 'Annie Hall'), Amanda Seyfried ('Mamma Mia') and Topher Grace ('In Good Company'), with Susan Sarandon ('Shall We Dance') and Robin Williams ('Good Will Hunting').
Katherine Heigl and Robert De Niro star in 'The Big Wedding'
'The Big Wedding' is a romantic comedy about a charmingly modern family trying to survive a weekend wedding celebration that has the potential to become a full-blown family fiasco.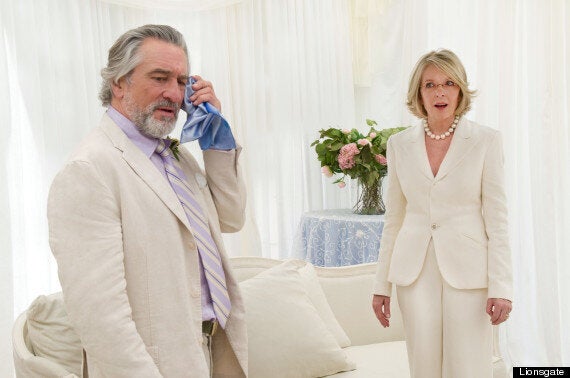 The past sneaks into the present for Don and Ellie Griffin (De Niro and Keaton)
To the amusement of their adult children and friends, long divorced couple Don and Ellie Griffin (De Niro and Keaton) are once again forced to play the happy couple for the sake of their adopted son's wedding after his ultra-conservative biological mother unexpectedly decides to fly halfway across the world to attend. With all of the wedding guests looking on, the Griffins are forced to confront their past, present and future - and hopefully avoid killing each other in the process.
Tickets should be presented at the Odeon box office with a copy of this page to gain admittance at your chosen location at 6:00pm for the 6:30pm screening on Tuesday 14th May 2013.
ODEON - Birmingham New Street, Brighton, Glasgow Braehead, Holloway, Kingston, Liverpool Switch, Manchester Trafford, Newcastle Silverlinks, Norwich, Swansea
Tickets are subject to availability and will be allocated on a first come first served basis via www.showfilmfirst.co.uk. Tickets are not for resale, no cash alternative. No late admittance. The cinema reserves the right to refuse admission. In the event of a dispute the cinema manager's decision is final.
The Big Wedding is in cinemas 29 May 2013. Watch the trailer below...