A renowned double bass teacher is being questioned on suspicion of indecently assaulting a former pupil, sources have confirmed.
Duncan McTier, 58, was arrested at his home in London on Friday over allegations of sex abuse against a 21-year-old woman in 1994.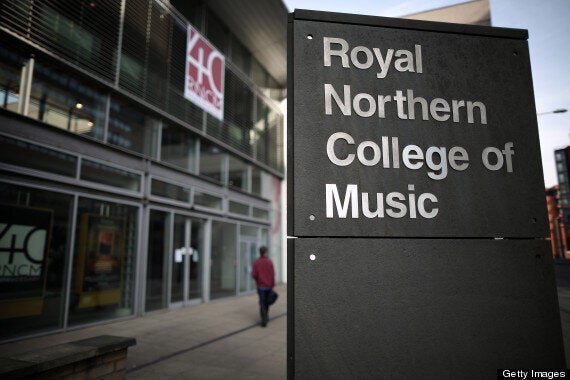 Duncan McTier taught at the Manchester college between 1984 and 1996
The alleged offence is said to have taken place while the victim was a pupil at the RNCM in Manchester.
Mr McTier was a part-time teacher in his specialist field at the Manchester college between 1984 and 1996.
He is currently a professor of double bass at London's Royal Academy of Music and holds similar positions at the Zurich University of the Arts and the Queen Sofia College of Music in Madrid.
According to his official website, Mr McTier is "recognised as one of the world's most foremost double bass soloists and teachers" who has given more than 400 solo performances worldwide.
Born in Stourbridge, Worcestershire, he graduated from Bristol University before he joined the BBC Symphony Orchestra at the age of 20.
He went on to become principal bass of the Netherlands Chamber Orchestra and won the 1982 Isle of Man International Double Bass Competition before he returned to England in 1984 to concentrate on a career as soloist, chamber musician and teacher.
The website stated he has been awarded honorary membership of the Royal Academy of Music and fellowship of the Royal Northern College of Music.
A spokeswoman for the RNCM said: "The Royal Northern College of Music will be assisting the police in whatever way it can. We cannot comment further at this time."
Earlier this week, Greater Manchester Police said more than 30 women had made complaints that they suffered sexual abuse from classical music teachers.
A total of 10 key suspects have been identified in the wide-ranging inquiry called Operation Kiso.
Those suspects either taught at Chetham's, the RNCM or privately.
Some 39 individuals have been investigated so far in the operation, of which five are deceased.
Violin teacher Wen Zhou Li, 57, a professor at the RNCM and a former teacher at Chetham's, was held in February on suspicion of rape and is on bail pending further inquiries.
The allegations come in the fall-out from the high-profile sex abuse trial earlier this year of Chetham's former music director Michael Brewer.
Brewer was jailed for six years in March after he was found guilty of indecently assaulting ex-pupil Frances Andrade, 48, more than 30 years ago when she was 14 and 15.
Mrs Andrade killed herself at her home in Guildford, Surrey, a week after giving evidence against him.
The trial heard historic allegations that sexual activity between teachers and pupils at Chetham's was not uncommon.
Detective Chief Inspector Jamie Daniels, from GMP's Protective Services Division, who disclosed the scale of the investigation, said it was a "significant inquiry in terms of potential number of offenders and number of victims".
He said: "This has been a high-profile investigation from the off and due to the complexities and sensitivities involved cannot and will not be rushed.
"I want to reassure the public that I am absolutely committed to getting justice for these women, many of whom have been spurred on by the bravery shown by Frances Andrade in the case against former teacher Michael Brewer.
"I also want to reassure everybody that where we have identified immediate safeguarding concerns the appropriate steps have been taken in partnership with other organisations."
On Tuesday, Channel 4 News reported that sexual abuse and inappropriate behaviour took place at five of the UK's specialist music schools over a 40-year period.
It named Chetham's and also the Yehudi Menuhin School in Surrey.
Surrey Police confirmed they have been contacted by the Yehudi Menuhin School following "allegations of historic sexual abuse against a member of staff who is now deceased".
Comments are closed for legal reasons
Related