Controversial payday loans company Wonga wants to team up with the government to get the economy growing, a collection of lobbying letters reveal.
The firm - which has been criticised for charging up to 4,215% APR on its loans - claimed it could help companies starved of credit by banks.
Payday loans companies have been dubbed "legal loan sharks" by campaigners for providing easy-access cash to hard-up people at above-average interest rates.
Wonga's lobbying efforts are contained in a string of letters sent to government departments and obtained by The Huffington Post UK under the Freedom of Information Act.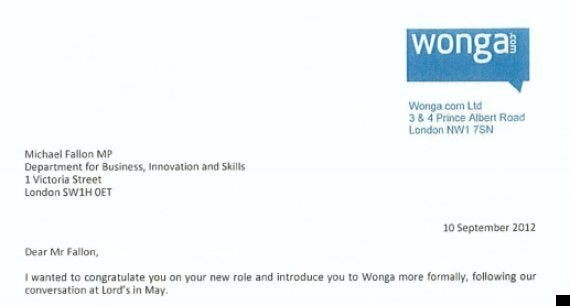 Lobbying by payday loans companies
They reveal the industry's attempts to curry favour with the government, tackle negative headlines behind the scenes and persuade ministers against proposed curbs on their activities.
Labour MP Stella Creasy, who is campaigning against payday loans companies and calling for a cap on interest payments, said: "These companies are relentless in trying to drown out concerns about legal loan sharking in Britain in their lobbying of government."
It comes as Britain's top 50 payday lenders have less than a month to clean up their act or risk losing their licences.
In March, the Office of Fair Trading gave the companies 12 weeks to "improve their business practices" after uncovering "widespread irresponsible lending."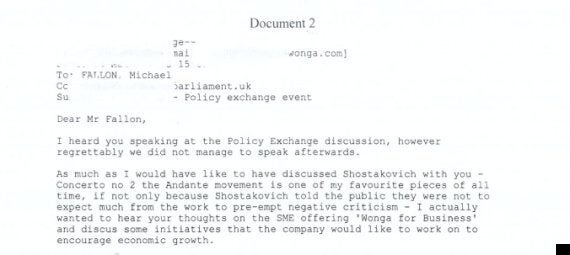 The companies have been criticised for their high interest rates
Wonga told The Huffington Post UK it had a "responsibility to engage government" as a global business.
A company spokesman said the interest rates on its business lending scheme were lower than its personal loans, as they are intended to be spread over a longer period.
It would not confirm whether its advances had been reciprocated by the government.
The company sent five letters to ministers at the Treasury and the Department for Business, Innovation and Skills, over 12 months. Labour MP Stella Creasy is campaigning against payday loans companies
The Consumer Credit Association, which represents payday loans companies, sent a further six, warning that the economy would be damaged under a proposed regulation shakeup.
In September, Wonga's Head of Regulatory Affairs, Henry Raine, wrote to Tory MP Michael Fallon, who had just been appointed Business Minister.
"I wanted to congratulate you on your new role, and introduce you to Wonga more formally, following our conversation at Lord's in May," he wrote.
In a hint at the public outcry at the interest rates charged by some payday lenders, he admitted credit was "an emotive subject," but told the Minister "Wonga is an all-to-rare British 'tech' success story," and suggested a meeting.

The Consumer Credit Association represents payday loans companies
After small talk about classical music, a separate email to Fallon from an unnamed Wonga representative again mentions the payday lender's 'Wonga For Business' scheme, asking to "discuss some initiatives that the company would like to work on to encourage economic growth."
The email highlights the lack of finance for small and medium sized enterprises (SMEs), offers to "share insights" about the market and requests a meeting with a ministerial team.
After government minister Lord Popat said he was "deeply concerned" about the OfT report, he received a letter from Wonga, providing "background" on the company and saying it was "highly committed to responsible lending."
Meanwhile, the Consumer Credit Association (CCA) kept up the pressure over plans to transfer responsibility for the industry to the new Financial Conduct Authority from next year.
It warned ministers: "The stakes are high. This is an important driver of growth in the real economy and many jobs depend on it"
In May, Wonga wrote to Lib Dem Business Secretary Vince Cable, again promoting its business lending scheme.
Wonga also wrote to Treasury Minister Lord Sassoon and other members of the House of Lords to urge them to reject moves to impose a limit on the amount of interest that can be charged.
The letter took issue with "seriously misleading" criticism and attempted to banish comparisons with illegal loan sharks.
Una Farrell, of the Step Change charity that helps people struggling with loan repayments, said: "Everyone has the right to lobby government.
"But they can write all the letters they want – if they really want ministers to take notice, they should be improving the industry."
Creasy reiterated her call for a cap on interest rates, saying: "With the continuing unemployment and cuts to support services, these problems are going to get worse not better in 2013 making the need to act even greater.
"But their letters to ministers claiming there's no problems just show how little these companies care about the damage they do.
Wonga said: "As a global business with a million customers in the UK, we have a responsibility to engage Government and politicians of all parties on topical issues.
"A good example is Wonga For Business, our fresh alternative for small businesses seeking to access finance.
"Our political engagement is two-way, such as Wonga's evidence before the Public Accounts Committee following their request for our views on consumer credit regulation.
"We are proud to bring our ideas and solutions to the attention of policymakers and will continue to do so."