Looking solemn in hard-hats covered in commemorative stickers, World Trade Centre workers posed for a final photo moments before the silver spire was raised atop the new skyscraper.
Now the tallest building in the Western hemisphere, the shining new Freedom Tower stands at the site of the 11 September 2001 terror attacks.
Its height, 1,776ft, is a reference to the year of America's independence. It towers above a memorial to those 3,000 people killed when two planes, piloted by al Qaeda hijackers crashed into the Twin Towers, causing both buildings to collapse. Workers pose for a photo prior to raising the silver spire atop the 1 World Trade Center building
The 408ft spire will serve as a broadcast antenna, and offices, observation decks, restaurants and a museum will be housed in the building. A 408-foot spire is set into place at the top of One World Trade Center With the spire, the building rises at a symbolic 1,776 feet tall
The tower is slated to open in 2014, and tenants include Vogue publisher Conde Nast and the government's General Services Administration.
Freedom Tower stands in the northwest corner of the site where the twin towers were destroyed. Other buildings are also under construction in the area, including 72-story Four World Trade Center.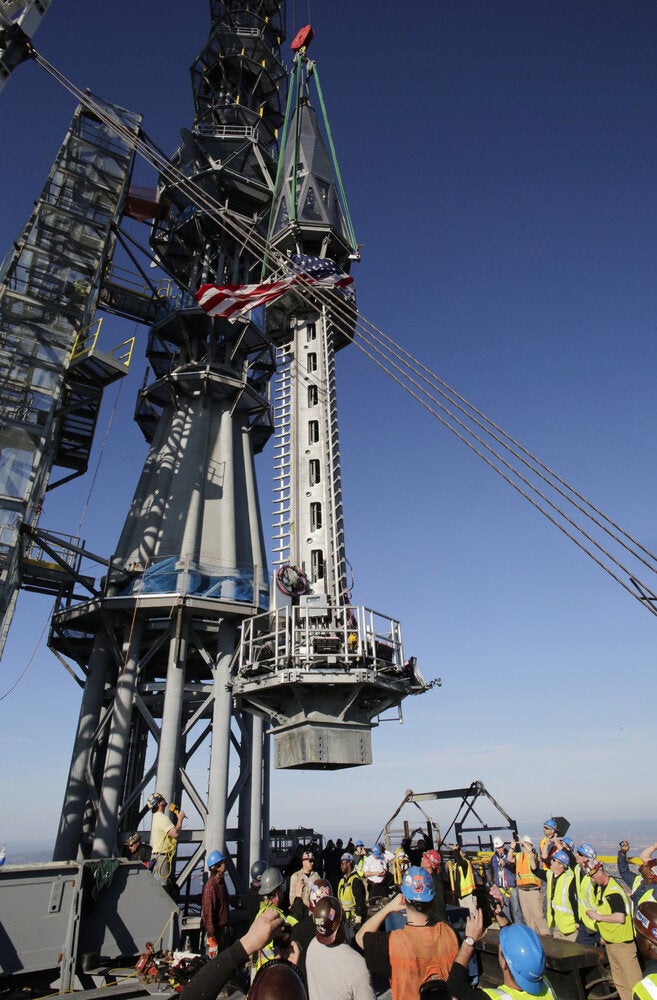 One World Trade Center Spire
Popular in the Community