"Sorry for the wait. We're not used to celebrating," Roberto Martínez announced as he nestled into his chair an FA Cup winner. Whereas most managers fresh from lifting silverware for the first time would sup from a glass of champagne, Martínez opted for a hot beverage.
The Spaniard was adamant the champagne had not been flowing in the Wigan Athletic dressing room, making good on his pre-match promise that any celebrations would be a teetotal affair. However wonderful Ben Watson's winner and Wigan's glory is for the club, they are favourites to be relegated.
Asked if winning the club's first major trophy would still mean nothing if the Latics leave the Barclays Premier League, Martínez remained adamant.
"Yes, I do feel that," he said frankly. "Nobody will take away the trophy, winning the FA Cup is something special and is inspirational to other football clubs, but we are in Europe next season and you need to play at the top level to move onto the next level."
Martínez may not even manage Wigan in Europe. Adding a trophy to his list of great escapes will rightly mask an eventful four years in charge of the DW Stadium should Wigan come unstuck like Steve McQueen on his motorcycle this time.
One of their conquests en route to their victory against Manchester City, Everton, will have a vacancy available. The elephant in the room was addressed, much to Martínez's chagrin.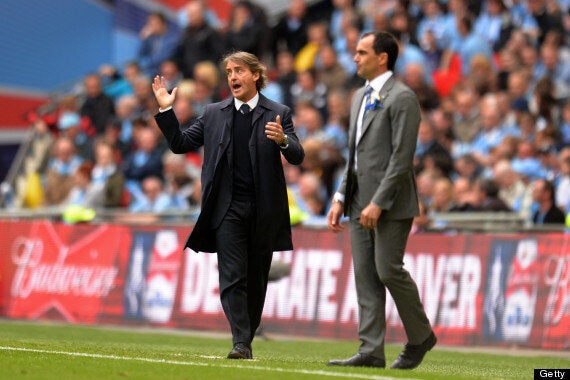 Mancini has suffered his first full trophyless season with City
"I didn't think i would get that question," he replied. So elated was he that the negativity which occasionally seeped into the questions could not cause him to become deflated. He admitted even if Wigan do stay up he could head for Merseyside.
"It doesn't change anything [if Wigan aren't relegated]. We focus on finishing the season as strong as can be the summer is the time the chairman and everyone discuss things."
Callum McManaman, staunchly defended by the club over his horrific challenge on Massadio Haïdara in March, intensified his love affair with the cup by producing a man of the match display to add to quarter-final goals versus Everton and Millwall. Martínez was blinded by loyalty over the Haïdara tackle however he "couldn't be prouder" of the Scouse winer.
"Callum McManaman has been through a lot the last few months but he's a man for the big occasions," the Spaniard stated.
"Callum is not fussed about anything. He is not one to look for the best shoes or the best cars. Give him a football and he is a happy man.
"He typified what Wigan Athletic is and I couldn't be prouder for him."
Martínez is the third managerial Roberto in a row to win the FA Cup, but the first Roberto could join the second Roberto in exile. Mancini was irked that City officials had failed to stymie reports Málaga coach Manuel Pellegrini was set to succeed him and had no qualms about hinting it had affected preparations for the final.
"You continue to speak about this for six months and in the last two weeks too much, and I don't know why the club didn't stop this," Mancini said. The City press officer belatedly made an effort to nip the Pellegrini questions in the bud, only Mancini was eager to address the situation.
"If these stories are true we will know if you wrote a lot of stupid things. If it is true, I will look stupid," Mancini added.
Conjecture over his future was convenient for a club that has experienced an abject season, given the resources. Mancini has spent £291.75 million since he arrived in Manchester in December 2009 and on two occasions City have been ejected from the Champions League at the group stage, while their defence of the Premier League was one of the feeblest in recent memory.
Brian Marwood was not explicitly mentioned but he again lingered in spirit. Mancini bemoaned City's activity in the "market", when they put it all on Robin van Persie only for the dice to come up snake eyes.
Evasion was married with straw-clutching when the Italian was asked whether the season had been an acceptable one for last year's champions.
"I think that it's better to win a Community Shield than nothing. How many teams did better than us this year? One. Man United," Mancini preached. Several writers corrected him under their breath before he added "Swansea." What about Wigan?