'Four Weddings and a Funeral', 'Notting Hill', 'Love Actually'... you know exactly the kind of rom-com Richard Curtis can create, and it's not done him much harm at the box office.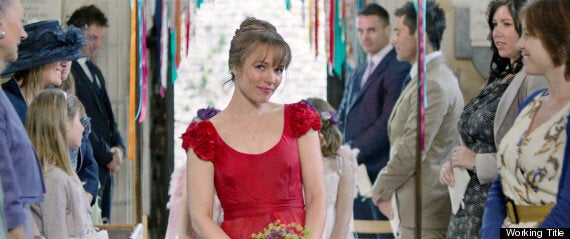 It's looking suspiciously like another screen wedding...
We'll see if the man also responsible for much of 'Blackadder', the screenplay for 'Bridget Jones' - not to forget his tireless efforts for Comic Relief - has still got his golden touch when his new film 'About Time' appears in cinemas in September this year.
The first trailer has just dropped - WATCH ABOVE - and here's some explanatory blurb below. Domhnall Gleeson and Rachel McAdams star, with Bill Nighy only adding to the charm. Here's the blurb:
Love doesn't always go to plan, but imagine you had a way to redo all your mistakes? At the age of 21, Tim Lake (Domhnall Gleeson) discovers he can travel in time... The night after another unsatisfactory New Year party, Tim's father (Bill Nighy) tells his son that the men in his family have always had the ability to travel through time. Tim can't change history, but he can change what happens and has happened in his own life-so he decides to make his world a better place...by getting a girlfriend.
'About Time' is in cinemas in September. Will you be going to see it? And do you think it can compete with this lot for hearts and tears?