David Cameron has visited the Boston Marathon bombings memorial, stopping to glance at the t-shirts, bunting, running shoes, flags and tributes left to the three who died in April explosions.
The Prime Minister walked around the site on Boylston Street, accompanied by Massachusetts Governor Deval Patrick, early on Tuesday morning.
The April 15 tragedy, caused by bombs planted at the finish line of the city's marathon where spectators had gathered to cheer friends and family, killed three people and injured more than 260.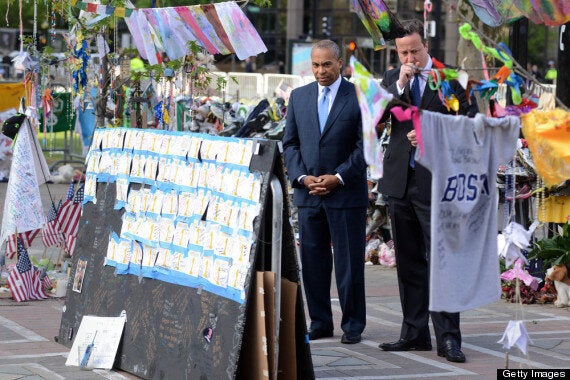 David Cameron visits the Boston bombing memorial site
One of the suspected bombers, Tamerlan Tsaernev, died in a shoot-out with police. The city went into lockdown as police searched for his brother and suspected accomplice Dzhokhar Tsaernav, who was found hiding in a boat hours later. He was taken to hospital, where he was later with use of a weapon of mass destruction and malicious destruction of property resulting in death.
During his three-day visit to the United States, Cameron was briefed by the FBI about the Boston Marathon Bombings.
Downing Street told the Telegraph Cameron wanted to see what the British security services could learn about "lone wolf" attacks.
On Monday, Cameron and US President Barack Obama discussed the prospect of a European Union-United States trade deal and the ongoing civil war in Syria.
Popular in the Community