A Swedish photographer who won the 2013 World Press Photo award has denied claims his image was faked with Photoshop.
Paul Hansen's picture of two Palestinian children killed in an Israeli missile strike being carried to their funeral, secured the accolade in what is one of photojournalism's most prestigious contests.
The picture, named 'Gaza Burial' was shot on November 20 and shows a group of men marching the dead bodies through a narrow street in Gaza City. Paul Hansen's winning image 'Gaza Burial'
The victims, a brother and sister, are wrapped in white cloth, with just their faces showing.
On Monday Extremetech.com published claims by forensic image analyst Neal Krawetz, suggesting the image is a composite of three different photos, with various limbs spliced together from each of the pictures and further manipulation of the mourner's faces.
It adds: "Basically, Hansen took a series of photos – and then later, realizing that his most dramatically situated photo was too dark and shadowy, decided to splice a bunch of images together and apply a liberal amount of dodging (brightening) to the shadowy regions."
He added: "I have never had a photograph more thoroughly examined, by four experts and photo-juries all over the world."
Contest rules regarding photo manipulation state: "The content of the image must not be altered. Only retouching which conforms to the currently accepted standards in the industry is allowed."
Hansen continued: "In the post-process toning and balancing of the uneven light in the alleyway, I developed the raw file with different density to use the natural light instead of dodging and burning. In effect to recreate what the eye sees and get a larger dynamic range.
"To put it simply, it's the same file - developed over itself - the same thing you did with negatives when you scanned them."
World Press Photo told Huffington Post UK: "The photograph by Paul Hansen, which has been selected as World Press Photo of the Year 2012 by the contest jury, has been subject to heated discussion about the level of enhancement of the image file.
"Paul Hansen has previously explained in detail how he processed the image. World Press Photo has no reason to doubt his explanation.
"However, in order to curtail further speculation - and with full cooperation by Paul Hansen - we have asked two independent experts to carry out a forensic investigation of the image file. The results will be announced as soon as they become available."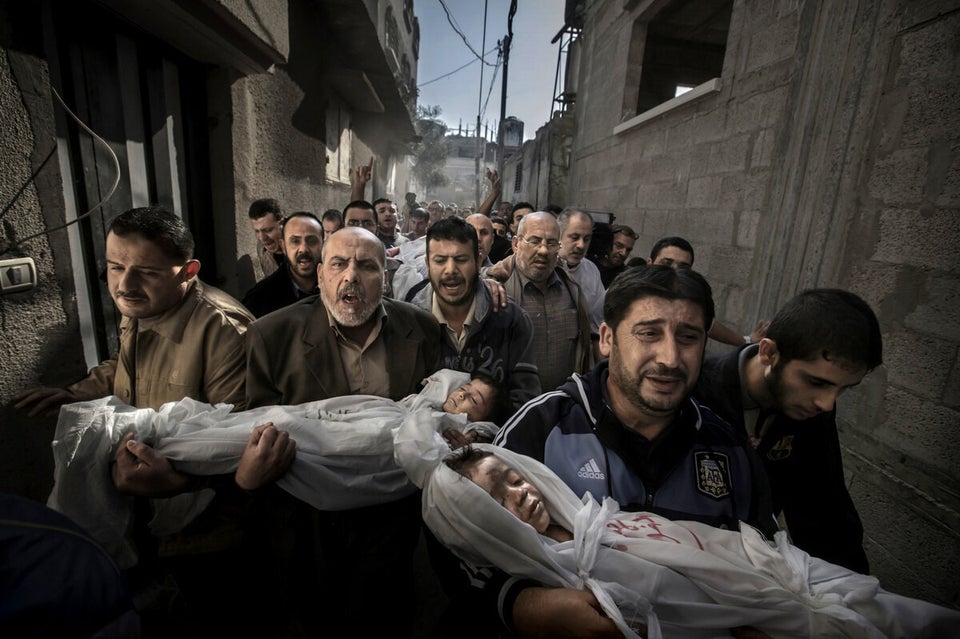 2012 World Press Photo Award Winners