The government is refusing to back plans for couples to be able to hold "non-religious" wedding ceremonies, despite previously pledging support, according to the British Humanist Association.
Outdoor ceremonies in parks and beaches could become an option for non-religious British couples, who otherwise must register with civic officials.
Currently, wedding ceremonies can be held outside, but legal documents must be signed in registered venues, which can cost couples dearly.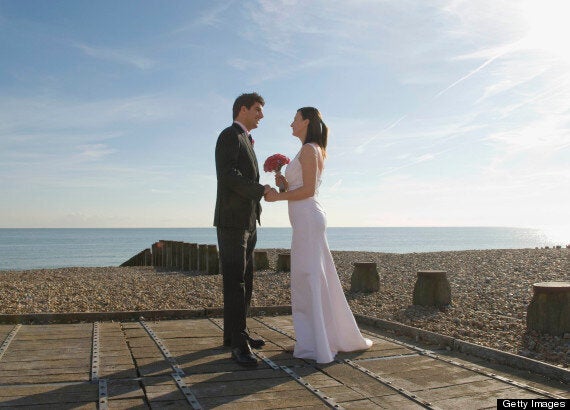 A British couple after their wedding on the beach in Eastbourne
The new amendment to allow legally-binding "humanist" weddings, has been proposed by a cross-party group of MPs to the Marriage Bill. In Scotland, 2,500 such weddings are held every year.
The BHA told HuffPost UK that from their perspective, until yesterday, it seemed likely that the amendment would be supported by ministers, but claimed they had now been told that the government would object.
Justice and Equalities Minister Helen Grant told HuffPost UK: "The Government has always been clear that this Bill is about enabling same sex couples to marry - not about changing fundamental marriage law in any other way.
"We have always said that a humanist couple must have a civil ceremony in order to be legally married. The ceremony can include personal elements including their own vows, non-religious readings and contributions from fellow Humanists."
The proposed change has prompted some concern that it would allow groups including Jedis and pagans to conduct legally binding wedding ceremonies.
Isabel Russo, head of Ceremonies at the BHA, called it "baffling and very sad that the government has taken this decision.
"All they are doing is standing in the way of the many thousands of couples who want their legal marriage to be a ceremony built on their love for each other and their deepest beliefs, conducted by a celebrant who shares those beliefs, which gives the occasion a significance that many couples feel they cannot gain elsewhere.
"All the marriages I have conducted have been for couples whose commitment was made all the stronger by the fact that they could make it is a ceremony that reflected their deepest values. I would have hoped this was something which government would support."
The pressure group's chief executive Andrew Copson called the alleged turnaround "a complete surprise", saying the amendment would have a "negative effect on absolutely no one in society. We are still hopeful that it will be supported by MPs in spite of this government scare-mongering."
The amendment to the Marriage Bill, which is currently going through Parliament, is supported by Labour MPs Kate Green, Chris Bryant, and Kelvin Hopkins, the Liberal Democrat MPs Stephen Gilbert, Dr Julian Huppert, and Stephen Williams, and the Conservative MP Mike Weatherley. It will be discussed at the Report stage of the Bill, which is scheduled for 20 and 21 May.
Scotland is one of only six countries in the world where Humanist wedding ceremonies are legal, the others are
Australia, Canada, New Zealand, Norway and some parts of the USA.
Getting married outdoors is not an option in the UK, nor is it possible in a tent or marquee, or any other movable structure, such as a boat or hot-air balloon. Couples wishing to hold ceremonies in these settings have to first sign legal documents in a civic ceremony.