The swelling throng could have been for a pop group, but even at the height of Britpop in January 1997 David Beckham was a one-man boy band.
Two months before the 21-year-old began dating Victoria Adams, Beckham was making waves. On the opening day of the season he scored from the halfway line against Wimbledon, a goal he later said "kicked open the door to the rest of my life". He would go on to be named the PFA Young Player of the Year and collect a second Premier League winner's medal with Manchester United, as well as becoming the Brylcreem Boy. Even his girlfriend at the time was an Italian model, called Stephanie Lyra.
On 25 January, the opposition at Old Trafford for an FA Cup fourth-round tie were Wimbledon. Walking past the players' car park en route to the Stretford End turnstiles, a BMW began approaching and my father instantly recognised the passenger in the front seat. Wearing a Calvin Klein cap, it was the injured Beckham, arriving fashionably late. Embarrassingly my father began bowing, much to the amusement of his father, Ted Beckham, and soon hundreds were gathering at the gate which separated the fans from the players.
I had my autograph book and Beckham was my idol. It was his name on the back of my United shirt and his hair I was hopelessly copying. Still, I was a painfully shy eight-year-old and my parents had to encourage me to mix with the masses.
Beckham is probably the most gregarious sportsman or celebrity with his fans. He once vowed he would never refuse to sign an autograph book because he had suffered the disappointment of rejection when he was younger, but as the crowd grew larger it seemed inevitable he would stop at some point.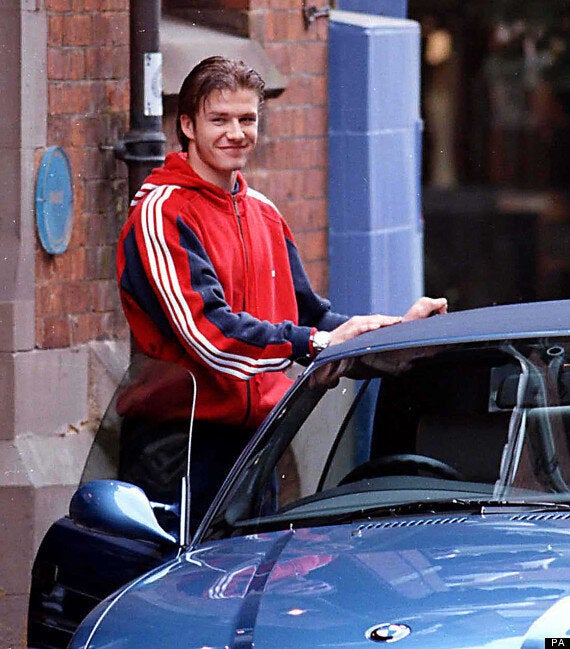 Despairingly I turned to my parents, taking pictures of him, and muttered something pessimistic. Somehow, despite all the excitement and shrieking girls, he heard my whimper.
"Don't worry, mate," he said, and patted me on the head. My autograph book got signed.
Witnessing the rise of Beckham from a pre-teen age was surreal. Ryan Giggs received 6,000 Valentine's Day cards in 1994 while Beckham probably received 16,000 in 1997. Giggs was the original football pin-up, yet Beckham was not only better-looking but never grew tired of the adulation. Although I could appreciate his haircut, there was no danger of me asking my mum if she would buy me a sarong.
At eight-going-on-nine, as a United fan, you could not help but get swept up in the tidal wave of Beckham mania. Brylcreem and adidas didn't need Don Draper to sell them their Beckham products and thanks to the official Manchester United "David Beckham: Football Superstar" video, many children could tell adults, "Did you know David Beckham was on Daytime?"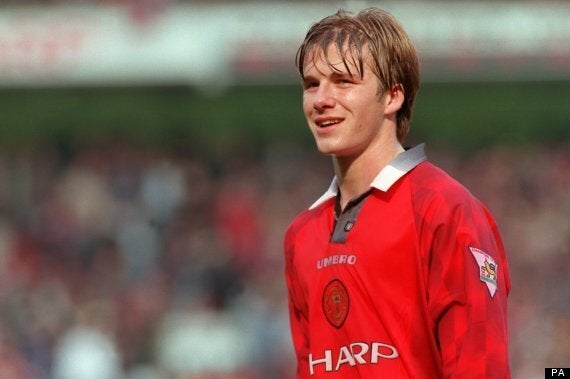 Beckham became a phenomenon in the 1996-97 season
At Wimbledon in 1999, my father hoisted me onto his shoulders for the last time so I could see United's players arrive at Selhurst Park. Beckham got the loudest cheer, despite the opprobrium and vitriol he was subjected to after England's 1998 World Cup failure, and upon being brought back down to earth I saw a teenage girl crying uncontrollably. No one had died, her ticket hadn't been stolen, she had merely caught a glimpse of David Beckham in the flesh.
Despite the growing circus, Beckham produced one of the finest individual seasons of Sir Alex Ferguson's United era in the 1998-99 Treble-winning season. He was never a world-class footballer, but football's Frankenstein's Monster should boast his world-class right foot.
He would not ascend to those heights again in his career but he was still a consistently brilliant player. The 16 goals he scored in what was supposed to be Sir Alex Ferguson's final managerial campaign in 2001-02 is often forgotten because United won nothing. One of the primary reasons they ended the season trophyless was because Beckham missed the final six matches due to breaking his metatarsal.
Yet somewhere along the way, things changed. I was willing to overlook the tacky OK! wedding, but as early as his first year as England captain in 2001, it was arguable Beckham was a celebrity first and a footballer second, and the novelty began to wear thin with many United fans.
He remained popular, but not on the same level as a Roy Keane, a Ruud van Nistelrooy or a Paul Scholes. Passionate, yet private, these were United players who supporters could empathise with, not the most recognisable sportsman in the world.
The easy line to greet his retirement with would be, "Hadn't he already?" At the age of 31, he agreed to join LA Galaxy once his Real Madrid contract expired in 2007, effectively retiring from competitive football. That may seem as insular a remark as many Americans' outlook, but the evidence is damning. However far the MLS has progressed in the last six years is irrelevant, it is still rightly regarded as the retirement home for European footballers. At 31, Gary Neville, Giggs and Paul Scholes, Beckham's former academy teammates at United, were busy helping Ferguson build his third great side.
Irrespective of his diplomacy, Beckham's loan moves to AC Milan in 2009 and 2010 indicated he harboured regrets about the timing. Those flashes of nostalgia for pure football were as heartwarming as that shot of him in the stands at the Emirates Stadium in 2009, gleefully savouring United's 3-1 thrashing of Arsenal in the Champions League semi-final.
He showed in Italy he could still hack it at European football, just as he did for PSG against Barcelona two months ago. It was an unremarkable and cautious performance, but it was further proof he had allowed the sideshow to overawe his profession over the last decade.
Beckham will collect another league winner's medal with PSG this weekend - his eighth in European football - but his contribution was predictably minuscule. He made one start and eight substitute appearances in Ligue 1, with Carlo Ancelotti taking the same sympathetic view his compatriot Fabio Capello did when he managed Beckham with England, handing out cameo caps which diluted the midfielder's importance.
Beckham partied like it was 1999 14 years ago: his first child was born, he won the Treble and got married, but professionally he peaked. And that's why the four years preceding that period are the ones United fans will cherish most.
Popular in the Community