Sir Alex Ferguson received a hairdryer cake from long suffering daily newspaper reporters on Friday after his last press conference as Manchester United manager.
Ferguson will take charge of United for the 1500th and final time at West Bromwich Albion on Sunday, and with the Barclays Premier League title won nearly a month ago, there was no risk of any reporters feeling the wrath of the Scot one last time.
"It's fully deserved," he joked about the cake.
"There have been some times when I have not agreed with what people have written and when you write positive things I tend to dismiss them.
"But I have never held a grudge. It is not my style."
He received a standing ovation when he arrived for his final briefing and sardonically bowed to those present.
The 71-year-old hailed the week-long celebrations, which took in his final Old Trafford match, United's coronation day, an open top bus parade of their 20th title and the club's end of season awards, as better than 1999 festivities when United won the Treble.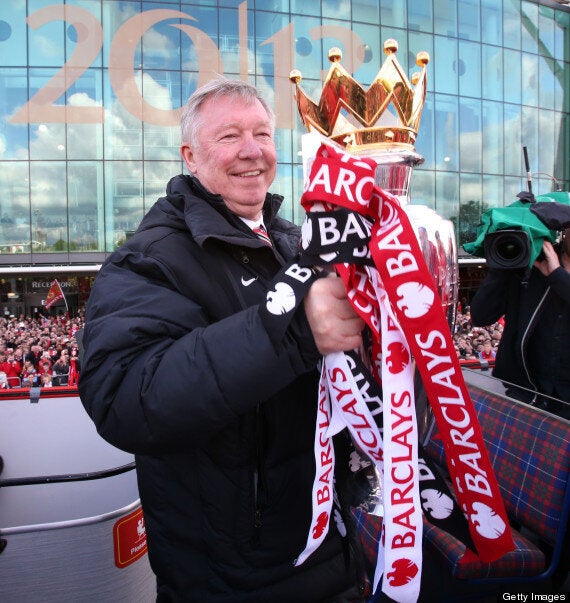 Ferguson hoists the Premier League trophy during United's Monday parade
"It's been an amazing last week," Ferguson admitted at his last ever press conference at Carrington. "I have been overwhelmed. Sunday was unbelievable and, as for the parade on Monday, I thought '99 could not be beaten. But, this time, seeing all the people on the scaffolding was incredible. I think it was better than '99.
"The memories are all there in 26 years at United. The whole thing. The day I came here was a privilege. The day I leave, I feel honoured."
"I haven't thought about what life will be like," he added. "I'm driven to take on other challenges right away. I've got the LMA meeting on Monday and then I'm going to Newmarket for two days on Tuesday and Wednesday. I'll go on holiday on 4 June and the Derby's before that on 1 June. I'll have my holidays for a month and then the operation and then the season will start. I'll be alright."
On ending his 26-and-a-half-years at Old Trafford with another milestone, Ferguson described Sunday as an "incredible" occasion.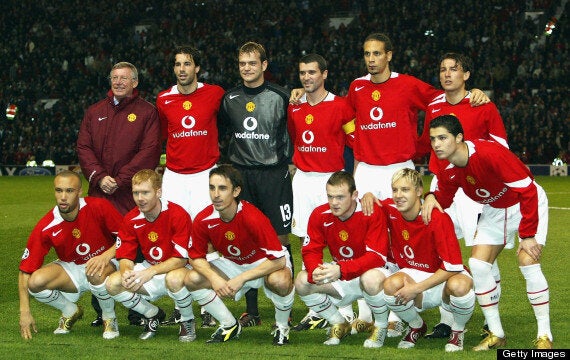 Ferguson lines up with the United XI for his 1000th match in charge against Lyon in 2004
"1500 games – it's incredible," he beamed. "West Brom have done fantastically, every team wants to win their last home game and obviously I want to win this one more than last week's even.
"I don't have any injury problems. I'll make a few changes - maybe a few younger players will play. It's going to be great."
Ferguson confirmed Anders Lindegaard will start in goal while Phil Jones and Jonny Evans will start in central defence because "they could be the future".