Israeli soldiers have clashed with strictly Orthodox Jews demonstrating in Jerusalem against a new plan to compel them to join the Israeli army.
The protest on Thursday turned violent with water cannons fired on the protesters who threw rocks and glass bottles in response.
Protesters oppose plans by the Israeli government for religious seminary students to be drafted into the army.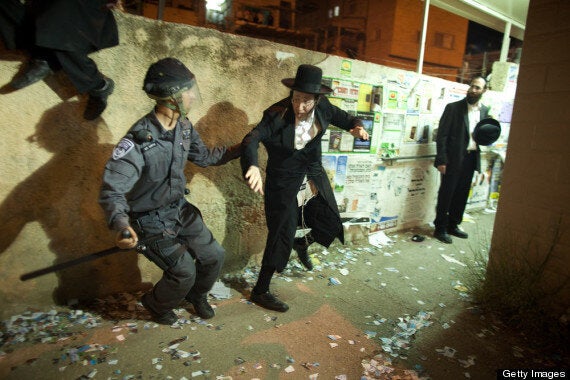 Israeli riot police arrest an ultra-Orthodox demonstrator
Currently strictly Orthodox youths are exempt from military service which secular men and women are obliged to complete for three and two years respectively.
There has been growing anger from the secular arms of society in Israel for what they see as failure by the religious communities to contribute.
Strictly Orthodox rabbis argue that Torah study is more important for the wellbeing of the state than military service.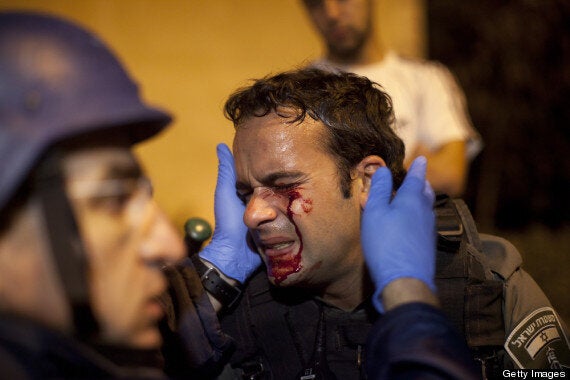 A wounded Israeli riot policeman is treated after he was hit by a stone from ultra-Orthodox demonstrators
The new law to force the strictly Orthodox to join the army is championed by Yair Lapid, a TV star turned centrist politician, who received an unexpectedly high number of votes in the Israeli election, placing him in the position of kingmaker at Israeli coalition negotiations.
As a result the two main strictly Orthodox political parties, Shas and United Torah Judaism who both vehemently oppose a draft, were excluded from the coalition government.
At least eight police officers were injured, two seriously, and 10 arrests were made in Thursday's demonstrations. Officers used water canons, stun guns and many rode in on horseback to quell the distrubances.
Related