David Moyes arrived with Sir Alex Ferguson at Manchester United's Carrington training complex, with kitman Albert Morgan the Scots' chauffeur.
Moyes does not officially become United manager until 1 July but he met the first-team squad on Monday ahead of the players jetting off across the globe on international duty or their holidays.
It is the first time Moyes, 50, has been pictured with the masterful Ferguson, who bid farewell to United fans after 26-and-a-half-years at the Hawthorns on Sunday.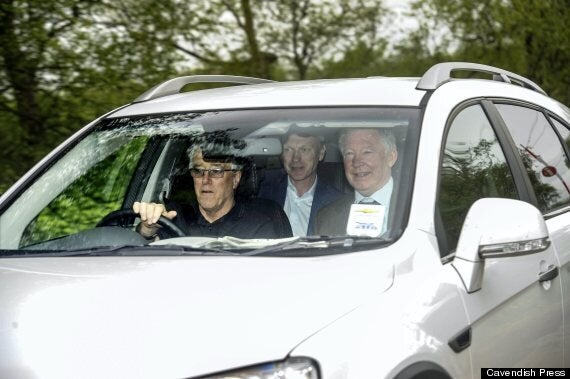 Kitman Albert Morgan acts as chauffeur for Ferguson and Moyes
West Brom came from 2-5 down to draw 5-5 with United in an extraordinary send-off for Ferguson, who won 38 trophies at Old Trafford.
Moyes, meanwhile, coached Everton for the final time at Stamford Bridge, where the Toffees were defeated 2-1 by the Europa League winners.
It means Moyes ends his Goodison Park tenure without having won at either Chelsea, United, Arsenal or Liverpool's grounds inside 90 minutes.