Dame Helen Mirren granted the dying wish of a poorly ten-year-old boy - by dressing up as the Queen and having him round for tea.
Brave Oliver Burton is facing his third battle with cancer - one his parents have been told he will not win.
Top of his bucket list was a visit to Buckingham Palace, but when the real HRH said she would not be able to meet the brave youngster, a limo was arranged so he could meet Dame Helen.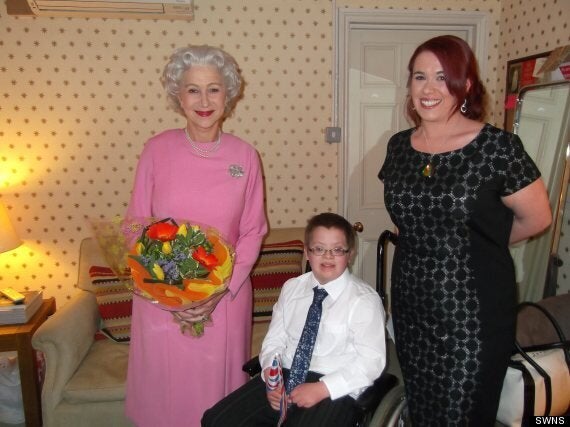 Dame Helen Mirren granted the dying wish of Oliver Burton to 'meet the Queen'
The 67-year-old star - who this month hit the headlines for her four-letter offensive against a troupe of noisy street drummers outside her play - donned her white wig and pearls and even knighted him Sir Oliver during the dressing room visit.
And to mum Catherine and dad James' delight, their little fighter truly thought the actress was the real royal deal.
Dad James Browne said: "She stayed in character for the whole thing. Oliver thought she was the real Queen, and well, that's good enough for us.
"She was really lovely. She did the whole thing - had a butler there, was dressed in costume and did it all properly for him.
"She sat in Oliver's wheelchair and gave him her big chair. She had a glass of coke together and biscuits and little sandwiches and they even brought in her corgis from the show, Coco and Roco.
"She was wonderful and in some of the photos you do a double take because she really does look like the real Queen.
"She knighted him and told everyone that they had to call him Sir Oliver. He had a brilliant day. He took his British flag and got her to sign it and just waved and waved it all day."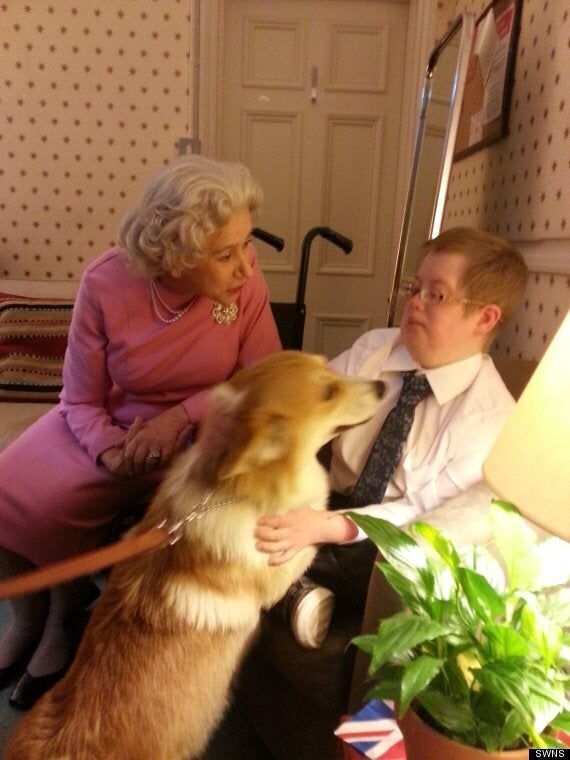 Helen Mirren 'knighted' Oliver Burton at their meeting backstage
It comes just days after the Dame yelled a troupe of noisy drummers outside London's Gielgud Theatre.
"To be honest we were had heard about her shouting and swearing at those drummers and we were a bit worried she would be quite stern, but she really was lovely," added James.
Little Oliver, from Leicester, was first diagnosed with leukaemia in 2006, aged just three.
Since then, his parents have twice been told their son had just hours to live - but both times the cheeky chap has defied doctors' predictions and pulled through.
But despite his strength and bravery, his parents were told earlier this month his latest cancer relapse could not be cured and he may have just weeks or months to live.
He has Downs Syndrome, which makes his body extra sensitive to medicines and doctors said intensive treatment would probably leave him fighting for his life in hospital.
Catherine, 29, and James, 32, have brought Oliver home and are determined to make his final weeks or months as happy as possible, filled with treasured memories for him and little brother Ethan, six.
Friends, family and even complete strangers have raised a total of #10,000 to pay for trips, including family days out to theme parks.
The National Children's Tumour Leukaemia Cancer Trust wrote to the Queen, but she said sadly she could not meet everyone who asked for a royal appointment.
Undeterred the charity wrote to Helen Mirren, who was only too happy to fill the royal's shoes.
James, a former soldier with the Coldstream Guards, gave up work six years ago to help care for Oliver.
He said: "Without these donations and this help we just never would have been able to have these amazing experiences as a family.
"Before this we have never asked for help, just done things on our own. When you go through this you do lose friends because you are in hospital all the time or just at home caring for Oliver, but with all this we feel like we have friends again."
James and Catherine are raising cash to help fill Oliver's final months with happy memories.
The National Children's Tumour Leukaemia Cancer Trust, who arranged the visit, said it made all the difference to Oliver's family.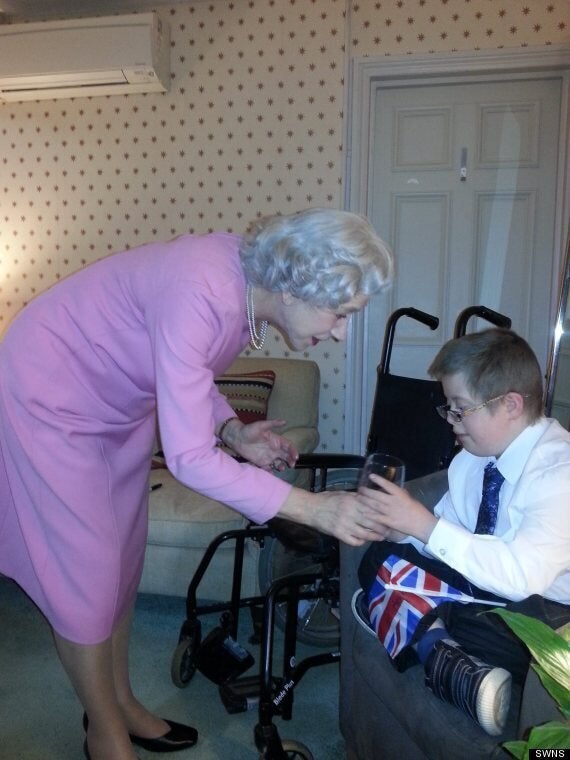 The family had tea and cakes backstage at 'The Audience'
Family support worker Andi Daw said: "I expected it to be two minutes in and out, but it was not at all.
"They had tea and cakes, they had the corgis, and they really took care of them.
"The theatre could not have been more helpful, we really could not fault them.
"It has made an enormous difference to Catherine and her family. She even said she has woken up the last few days feeling lifted.
"It's a memory that she will hold for the rest of her life.
"Even when Ollie is not around anymore they have got something they can look back on.
"It really was Ollie's biggest wish to meet the Queen so it was absolutely huge."
When Oliver was diagnosed with leukaemia in 2006 he made a full recovery and was in full remission by June 2008. But in May 2010 a test on fluid inside his spine revealed the cancer had returned.
While is hospital he contracted a life-threatening skin condition - Stevens-Johnson syndrome - which caused lesions and saw Oliver shed almost all his skin, except a tiny patch on his forehead.
His parents were told to call in family and friends to say goodbye to Oliver, but he pulled through and eventually returned home.
While the cancer was terminal and intensive chemotherapy was not an option because of Oliver's Downs Syndrome, daily, less-intensive treatment at home meant the cancer was held at bay and Oliver entered partial remission.
But in October last year, Oliver's health started to go downhill and less than two weeks before Christmas he was again diagnosed with cancer - now in his spine and bone marrow.
He was transferred to the high dependency unit at Leicester Royal Infirmary after suffering breathing problems and was put on an aspirator. MRI scans revealed he had suffered a toxic reaction to chemotherapy which had affected his brain.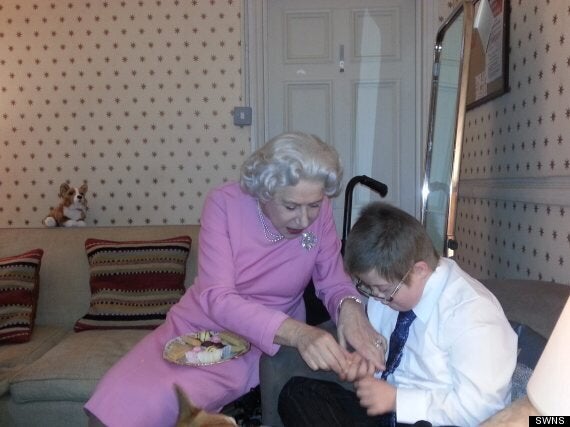 Oliver Burton also met Helen Mirren's corgis
Once again, his parents were told to say goodbye - but once again Oliver proved them wrong.
Medics knocked his breathing tube and Oliver started breathing again, and woke up.
He was able to come home to celebrate a family Christmas with his relieved family.
But just months later Oliver's consultant delivered the crushing news that the little lad's cancer could not be intensively treated and there was no cure.
His parents, who have been told Oliver may have just weeks left, are now waiting to hear if chemo delivered into his spinal fluid is keeping the cancer at bay.
Dad James added: "It is just waiting now. Oliver doesn't follow a rule book with these things and just keeps proving everyone wrong. We are just waiting. We are all over the place really, we don't know what is going on yet."
Popular in the Community