A second body has been found after a gas explosion destroyed a terraced house.
Neighbours spoke of their shock at the severity of the explosion in Newark, Nottinghamshire, which reduced the property to rubble and prompted police to warn local people to remain indoors.
Fire crews found a man's body on Monday morning during a search of the rubble after the house collapsed.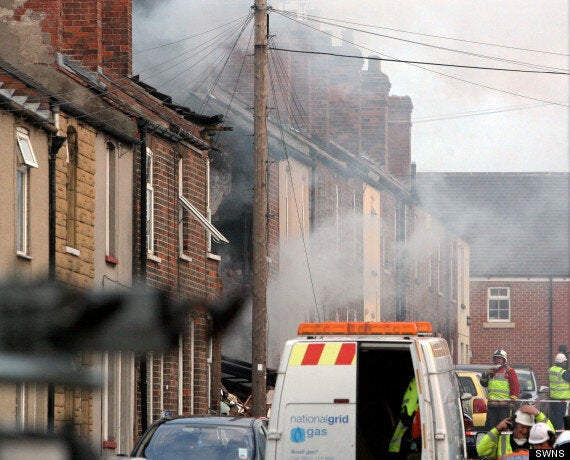 Witnesses reported 'plumes of smoke everywhere'
It was later confirmed that a second body had been found.
The explosion happened just before 5.15pm yesterday at an address in Wright Street, Nottinghamshire Police said.
Searches have been suspended while the property is made safe, but police said they will resume later in a bid to find another person who is believed to still be in the house.
More than 100 people were evacuated from their nearby homes as a precaution and a rest centre has been set up at the nearby Grove Leisure Centre.
A woman and two children were taken to the Queen's Medical Centre in Nottingham for treatment for smoke inhalation and have since been discharged.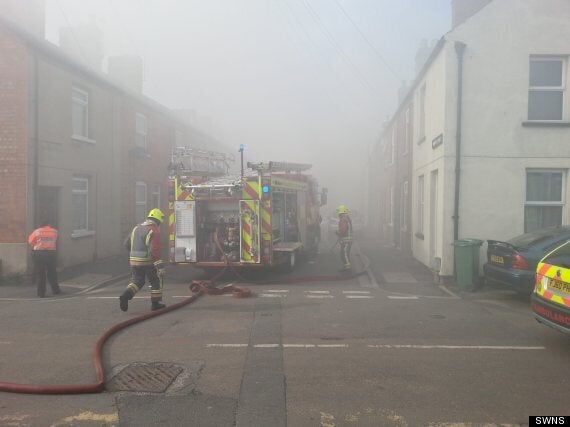 More than 100 people were evacuated from their homes
A man who suffered serious injuries and smoke inhalation remains in hospital.
A number of roads are closed off in the immediate vicinity and diversions are in place, police said.
Local resident Dan Walker, who lives around 100 yards from the scene, told Sky News that children could be heard screaming in the moments after the blast.
Mr Walker said: ''I was in the back garden just doing some gardening and there was an almighty bang, and the floor shook.
''It sounded like a bomb had gone off down the road.
''All you could hear was kids screaming so I ran out to the front garden to see what was going on.
''I went down the street and I could see the house - it was in pieces.''
The property which was destroyed is said by neighbours to have been occupied by a couple and a small child.
Audie Cashin told reporters that he and four other people helped to drag a man out of the property.
Mr Cashin, who was informed that the man's father was in the cellar of the house, said he was then ordered to leave the area by fire crews.
Eye-witness Isla MacDonald, who lives in Wright Street, told how she and her partner saw a man in the remains of the building.
She told BBC Radio Nottingham: ''There was all this smoke. It was like something off the telly.
''A man was crawling through the debris bleeding - the whole of the house had come down.
''Two lads came and we got him out, and carried him up the path away from the all the smoke. His legs were hurting, so we laid him down.
''It was horrendous, it was just terrifying.
''The whole building has all come down.''
Emergency crews were alerted to the explosion at 5.11pm and appliances from Tuxford, Newark, Southwell and Collingham attended the scene.
Simon Hunter, who lives around the corner from Wright Street, told ITV's Daybreak programme: "It was just a massive crash, like a big explosion.
"We had just come in from the garden and there was a massive explosion.
"The house shook, I looked at my wife and it was just sheer terror, we didn't know what was going on.
"My initial reaction was that a train had derailed.
"Then I saw the house with plumes of smoke everywhere. It was just carnage, it was unbelievable."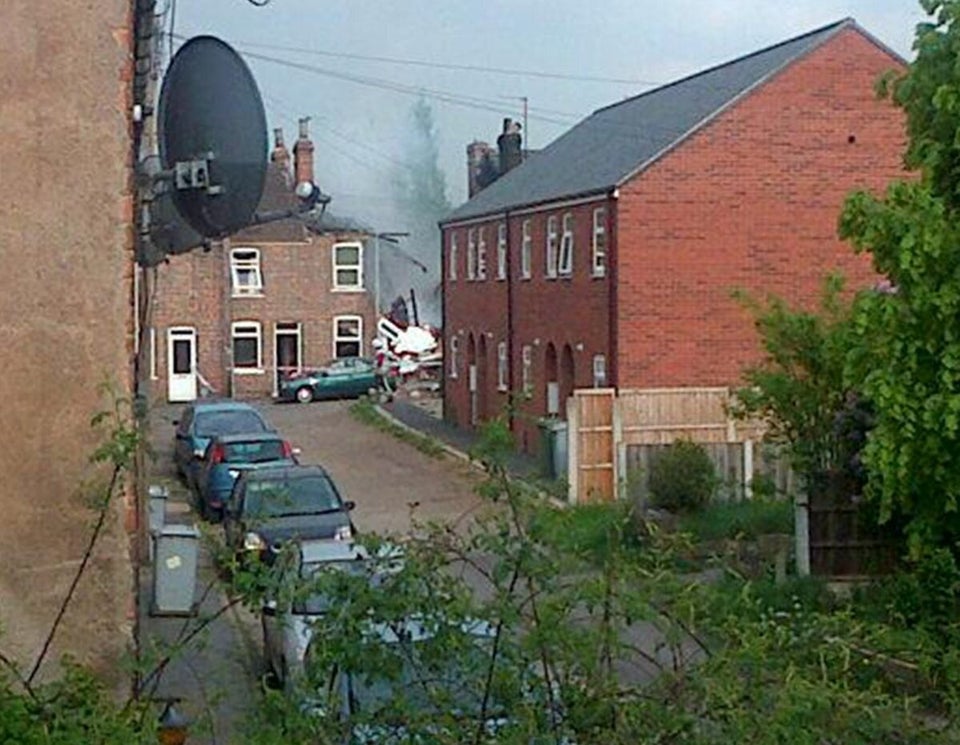 Gas Blast On Wright Street, Newark, Nottinghamshire