Anti-terror police investigating the "barbaric" murder of a soldier in London have searched a property 150 miles away in Lincolnshire. While the two self-confessed killers were under armed guard in different London hospitals, detectives swooped on an address in Saxilby.
There were also reports of addresses in the London area being searched by police. Scotland Yard refused to comment, but Lincolnshire Police said: "We can confirm that the Metropolitan Police executed a search warrant under PACE (Police and Criminal Evidence Act) at an address in Lincolnshire. This is in connection with the ongoing investigation into the murder of a man in Woolwich. The Metropolitan Police are not prepared to discuss the matter further at this stage."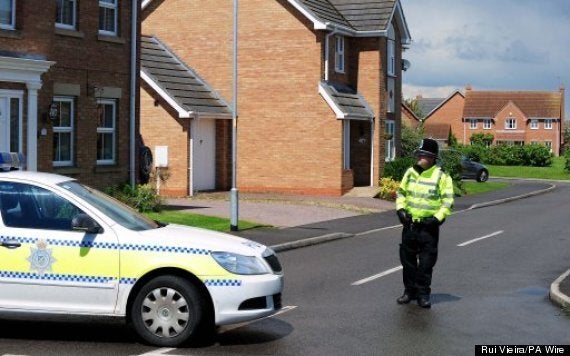 Police raided a house in Saxilby, Lincolnshire
The news came as Scotland Yard confirmed that the victim of the attack, which took place in daylight on Wednesday afternoon, was a serving soldier, who has yet to be formally identified. Sources said both the killers are believed to be British citizens with Nigerian connections who converted to a radical form of Islam. But they are not thought to have links to terror groups based in Nigeria, such as the jihadist organisation Boko Haram.
Security chiefs and politicians met this morning to discuss their response to the attack. Arriving for a meeting of the Government's Cobra crisis commitee, mayor of London Boris Johnson said it was wrong to link the murder with British foreign policy or the actions of Britain's armed forces overseas.
Johnson said: "The fault lies wholly and exclusively in the warped and deluded mindset of the people who did it."
The mayor also urged Londoners to "go about their lives in the normal way".
Others attending the meeting included Sir John Sawers, head of security service MI6. Security was tight this morning at the army barracks near the scene of yesterday's killing. Troops in London were advised in the immediate aftermath of the attack not to wear their uniforms outside their bases.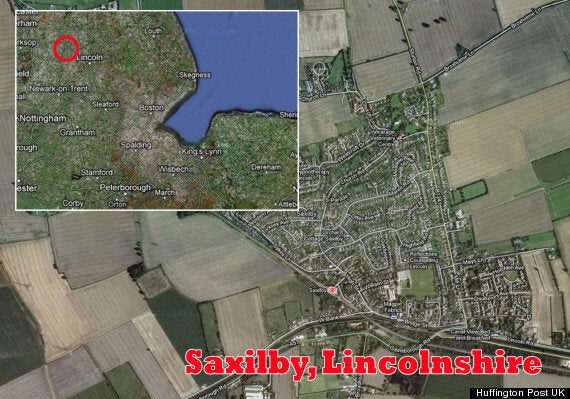 But at the Cobra meeting on Thursday morning it was agreed that issuing orders against wearing military uniforms in public would not be the right response to the outrage. A No 10 source said last night's advice was an "understandable reaction" while the circumstances of the attack were still unclear, but Cameron and others at the meeting agreed that "the best way to defeat terrorists was to continue with normal life".
A Ministry of Defence spokesman said: "In light of yesterday's events and the emerging situation, the military chain of command introduced a package of immediate reactive security measures on a precautionary basis. Following a review of the situation this morning, a decision has been taken to relax some of these temporary measures imposed yesterday, including advice to members of the armed forces in London not to wear uniform outside of defence establishments. The best way we can defeat terrorism is to carry on as normal, and that includes our personnel wearing their uniform."
Prime Minister David Cameron was briefed by Metropolitan Police commissioner Sir Bernard Hogan-Howe on the murder investigation before chairing the meeting of Cobra at 10 Downing Street. In a message on Twitter, Cameron described the killing as "sickening".
Meanwhile, a woman who risked her life to confront one of the killers who murdered the soldier in front of horrified passers by described how she tried to calm him moments after the attack. Ingrid Loyau-Kennett, 48, was on a bus heading through Woolwich when she spotted the stricken soldier lying bloodied in the road.
Her bravery - and that of others who tried to reason with the killers - has been praised, particularly in the wake of amateur footage from the scene, which shows one of the killers making political statements about the slaughter while still brandishing weapons. Cub leader Ms Loyau-Kennett, of Helston in Cornwall, told ITV Daybreak she initially thought the victim had been injured in a car crash.
She said: "I went to the guy and when I approached the body there was a lady cradling him. And then (one of the killers), the most excited one of the two, said 'Don't go too close to the body'. I thought, OK. And because I was down I could see a butcher's knife and an axe - that's what he had - and blood. I thought, what the heck? I thought obviously he was a bit excited and the thing was just to talk to him."
Loyau-Kennett said she tried to reason with the killer to focus his attention away from other potential victims, as large crowds began to gather at the scene. She said: "I know it's big today but for me it was just a regular guy, just a bit upset. He was not on drugs, he was not drunk.
"He said 'Don't touch, I killed him'. I said 'Why?' He said 'He's a British soldier. He killed people. He killed Muslim people in Muslim countries'. And I said, OK. So what would you like? I tried to make him talk about how he felt. He said all the bombs dropping and blindly killing women, children... More and more people were starting to come. There were so many people around. I just looked around and I found it so daunting."
Loyau-Kennett said her thoughts were to "just carry on" talking to the man, while several women arriving at the scene tried to shield the victim. She said: "I wanted him to concentrate on me and make sure he doesn't have a funny idea. He (the killer) told me he was a British soldier - he didn't look like a British soldier to me, he wasn't in uniform. But I thought if another one passes by, or is in the area..."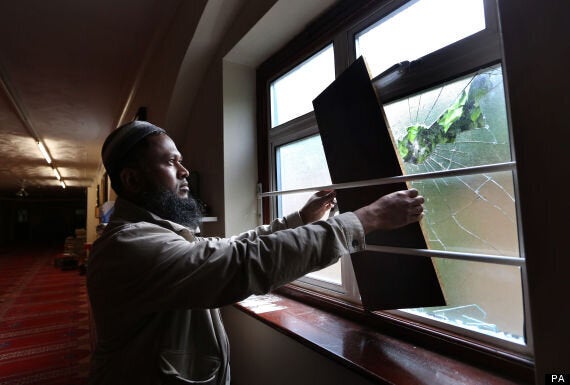 A member of a Mosque in Kent boards up a window after a 'racially-aggravated' attack
Woolwich and Greenwich MP Nick Raynsford praised the "extraordinary" bravery of members of the public who approached the killers. The men are in separate London hospitals being treated for injuries after they were shot by police at the scene.
One of the attackers behind the barbaric killing was filmed wielding a bloodied meat cleaver, saying: "We swear by almighty Allah we will never stop fighting you." In the chilling footage, he explains his terrifying actions. We must fight them as they fight us. An eye for an eye, a tooth for a tooth," he is heard to say in the clip, obtained by ITV News. I apologise that women have had to witness this today, but in our land our women have to see the same. You people will never be safe. Remove your Government, they don't care about you."
The attacker, who spoke clear English without a foreign accent, is then seen walking towards the victim, who is lying in the street. Another man is standing by the damaged car. The incident occurred some 200 yards from the Royal Artillery Barracks, adjacent to Woolwich Common, the historical home of the Royal Artillery.
The barracks, also known as the Woolwich station, now houses a number of the King's Troop Royal Horse Artillery and independent companies of the Grenadier and Coldstream Guards. A car believed to have been used in the attack was taken away during the night.
The blue vehicle, which appeared to have collided with a road sign in John Wilson Street, was covered with a red tarpaulin and taken away by a tow truck. Former chairman of the Joint Intelligence Committee Baroness Neville-Jones said the security services would be exploring whether the attack was carried out by a "lone wolf" or by someone with connections to terror groups at home or abroad.
"Clearly, as in this case the perpetrators are still alive, they are going to be questioned. There is going to be a great deal of information available," she said on BBC Radio 4's Today programme. "There is a much bigger problem, potentially. Isolated attacks of the kind we have just seen, of this kind of attack, I'm inclined to think is possibly more in the nature of a lone wolf, is particularly hard to deal with because there are very few outward signs beforehand of the nature the intelligence services can pick up."
A Metropolitan Police spokeswoman confirmed that officers travelled to Lincolnshire last night to carry out searches. She said: "We can confirm that the MPS (Metropolitan Police Service) executed a search warrant at an address in Lincolnshire. This is connected to the ongoing investigation into the murder of a man in Woolwich."
Local Muslim Lucky Awale witnessed the attack as she made her way home from local shops with her sister. She said: "When we got near we saw this guy with dark clothes holding the knife and talking like a crazy man, saying 'this Government needs to change', things like that. He wasn't scared, he was saying 'call the police'."
She said the men could not be real Muslims but suggested they had their own reasons for doing it. "We live multiculturally, all kinds of people live here, all kinds of religions," she added. "For incidents like this to happen in the name of Muslims, it sends the wrong impression to people like the EDL, thinking that Muslims would be like that."
Awale said her sympathy was with the dead man's family and she was scared that such a violent attack could happen where she lived. She continued: "We are scared as a community today. My sister lives near here and she is scared to come out, she is scared of the EDL and everything. Our kids are big enough to go to school by themselves but today we had to take them because we are scared. We are just asking for people not to take the wrong impression, the wrong idea, and take revenge on Muslims."