Drummer Lee Rigby of 2nd battalion Royal Regiment of Fusiliers was killed in a suspected terror attack on Wednesday.
The statement from Lee Rigby's family said: "Lee was lovely. He would do anything for anybody, he always looked after his sisters and always protected them. He took a 'big brother' role with everyone.
"All he wanted to do from when he was a little boy, was be in the Army. He wanted to live life and enjoy himself. His family meant everything to him. He was a loving son, husband, father, brother, and uncle, and a friend to many.
"We ask that our privacy be respected at this difficult time."
The 25-year-old solder was identified on Thursday afternoon in a statement from the Ministry of Defence, which described him as "extremely popular and witty" with a "larger than life personality."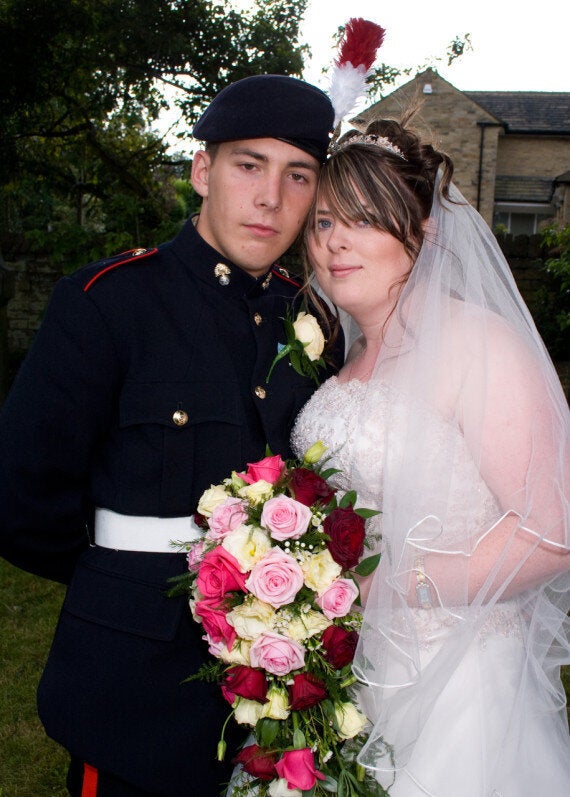 Drummer Lee Rigby, of the 2nd battalion Royal Regiment of Fusiliers was killed on Wednesday
He was father to a two-year-old son named Jack and had served tours of duty in Afghanistan, Germany and Cyprus, it added.
Lieutenant Colonel Jim Taylor MBE, Commanding Officer Second Fusiliers, paid tribute to a "true warrior" and said: "He will be sorely missed by everyone in the Second Fusiliers.
"Our thoughts and prayers are with his family and friends at this incredibly difficult time. Once a Fusilier, Always a Fusilier."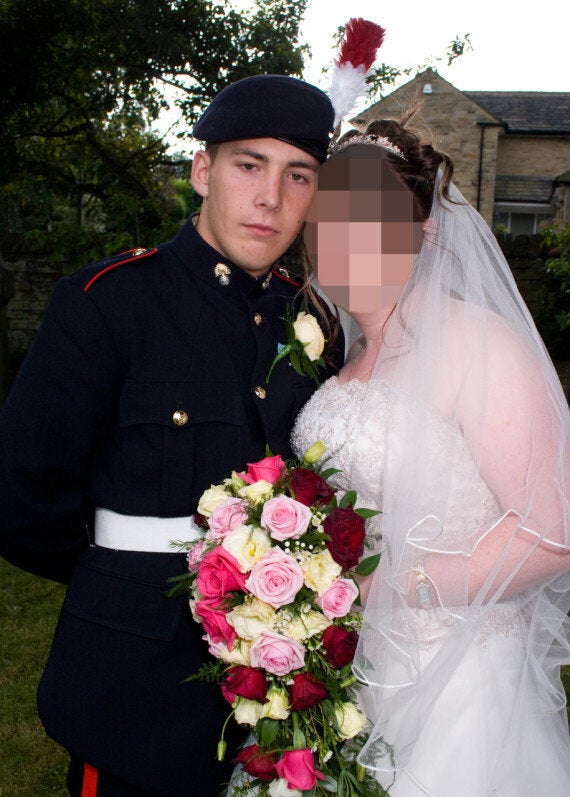 Drummer Rigby on his wedding day
Two men have been arrested after Drummer Rigby, believed to be wearing a Help for Heroes t-shirt, was attacked with a machete just yards from the Royal Artillery Barracks.
A man with bloodied hands swore to "never stop fighting" as emergency crews rushed to the scenes.
Footage obtained by ITV news showed a man carrying knives, speaking into a camera. A woman and two children leave floral tributes at the scene where Drummer Rigby lost his life
It shows a suspect, wearing a dark jacket, jeans and a beanie hat, calmly walking towards the camera with what appears to be two large knives clasped by the handles in his bloodied left hand.
Gesticulating with both hands - while gripping the weapons - the man points to his own face as he says: "We must fight them as they fight us. An eye for an eye, a tooth for a tooth."
Ingrid Loyau-Kennett, 48, told the Daily Telegraph that one of the attackers said to her that they "want to start a war in London tonight".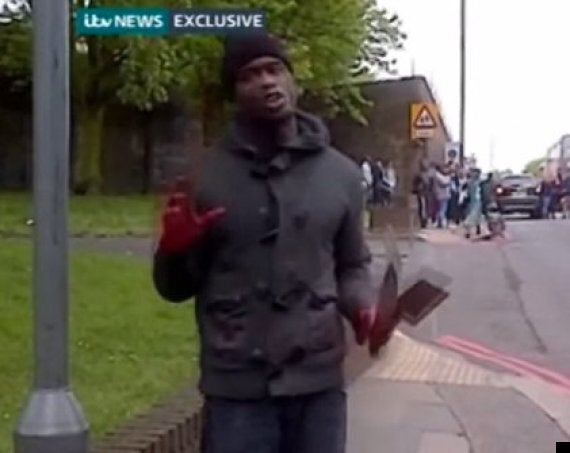 One of the suspects was filmed with bloodied hands, holding knives
The Cub Scout leader from Cornwall, added: "Being a Cub leader I have my first aid so when I saw this guy on the floor I thought it was an accident - then I saw the guy was dead and I could not feel any pulse.
She added: "I asked him if he did it and he said yes, and I said, 'Why?' And he said because he has killed Muslim people in Muslim countries, he said he was a British solider and I said, 'Really?' And he said, 'I killed him because he killed Muslims and I am fed up with people killing Muslims in Afghanistan, they have nothing to do there'."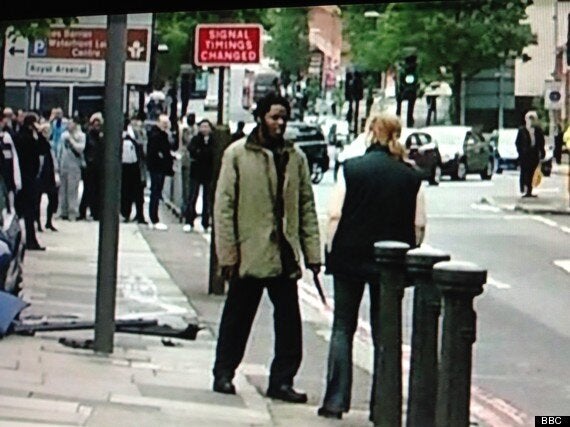 Ingrid Loyau-Kennett confronts a suspect
Speaking in Downing Street on Thursday morning, he said there was "absolutely no justification" for the murder which is believed to have been carried out by Islamist extremists.
"What happened yesterday in Woolwich has sickened us all. On our televisions last night and in our newspapers this morning we have all seen images that are deeply shocking. The people who did this were trying to divide us. They should know something like this will only bring us together and make us stronger," he said.
US president, Barack Obama, condemned the 'horrific' attack and promised to 'stand resolute' with the UK in the face of terrorism.
In a statement, the president said: "I condemn in the strongest terms the appalling attack against a British service member in Woolwich on 22 May. The United States stands resolute with the United Kingdom, our ally and friend, against violent extremism and terror.
"There can be absolutely no justification for such acts, and our thoughts and prayers are with the family of the victim, the police and security services responding to this horrific act and the communities they serve, and the British people."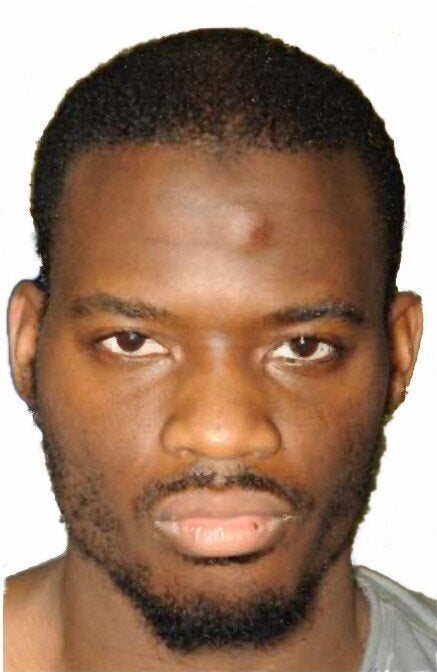 (GRAPHIC WARNING) Woolwich attack: Lee Rigby Murder