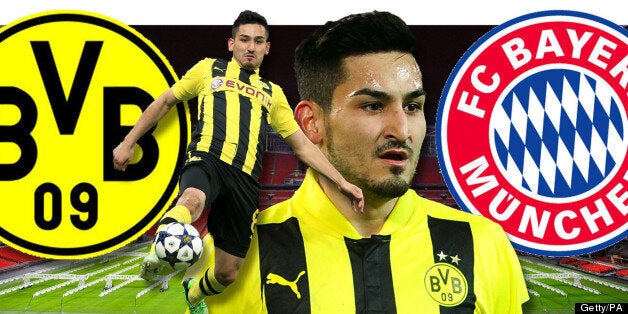 Franz Beckenbauer diplomatically hailed Wembley as "the capital of football and the heart of football" earlier this week. A man who graced the energy-sapping turf during English football's finest hour aged 20, he frustrated Bobby Charlton and vice versa in the 1966 World Cup final. Charlton had thwarted Der Kaiser from expressing himself on the biggest stage, but his compatriot İlkay Gündoğan will not be denied the privilege on Saturday.
Mario Götze's hamstring tear has not only scuppered his hopes of repairing a broken relationship with Borussia Dortmund fans but has denied him a Champions League final appearance at the age of 20. Dortmund followers might call it karma for Götze agreeing to join weekend opponents Bayern Munich for £31 million, yet they are at a disadvantage without the ebullient playmaker.
When injury sidelined Götze last year, Jürgen Klopp had the luxury of Shinji Kagawa effecting proceedings. The Japanese and Robert Lewandowski eviscerated Bayern in the DFB-Pokal final, with Kagawa opening the scoring and Lewandowski hitting a hat-trick in a resounding 5-2 win. With Kagawa gone, the baton passes on to Gündoğan.
Usually, the 22-year-old starts with Sven Bender in an indefatigable midfield two. Bender is the more defensive of the duo, with Gündoğan granted licence to support Dortmund's quartet of Götze, Lewandowski, Marco Reus and Jakub Błaszczykowski. The likelihood on Saturday is he will start in a more advanced role. A false 10, the nu-fans call it. Gündoğan is one of the outstanding young midfielders in Europe
Kevin Großkreutz, who replaced Götze when he tore his hamstring in the Bernabéu three weeks ago, will likely replace him again, although the experienced Sebastian Kehl is another option. Großkreutz, a winger originally lauded with the crop of exuberant youngsters Klopp nurtured, has struggled since Reus returned to the Ruhr and was used in a defensive role in Madrid.
It is probable that Klopp will entrust Gündoğan with the responsibility of creating Dortmund's attacks, a role he excels at with or without Götze. Despite being positioned in the centre of the pitch, Gündoğan boasts silk and steel in abundance: a throwback box-to-box midfielder who is nevertheless technically adroit enough to dictate games in the rapid Bundesliga and the Champions League.
Encouragingly for Dortmund, Gündoğan was one of the outstanding performers in their 4-1 destruction of Real Madrid last month. With Götze's transfer announced two days earlier, the Bayern-bound attacker was peripheral whereas Gündoğan was pivotal and the unsung architect for Lewandowski's glory night as he scored all four.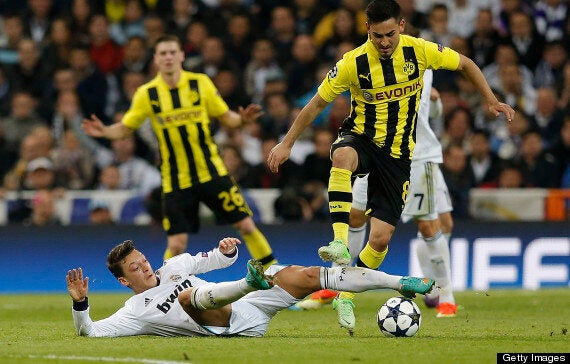 Gündoğan was superb against Madrid
A flicker of his steely side was exhibited at the finale of BVB's extraordinary victory against Málaga in the quarter-finals. He had actually been substituted on 86 minutes - before Reus and Felipe Santana's stoppage-time goals - but it didn't stop him getting involved in some aggro with Málaga's crestfallen goalkeeper Willy.
Gündoğan will need his energy. Jupp Heynckes' Bayern behemoth has the luxury of fielding two from Bastian Schweinsteiger, Javi Martiínez, Toni Kroos and Luiz Gustavo, which could force him to play two roles in stymieing Bayern and stimulating Borussia.
The Wembley showpiece is also the grandest platform for the Turkish descendent's audition. His contract with Dortmund doesn't expire until 2015 and while he has suggested he would be receptive to inking a new deal, Real Madrid and Manchester United are known admirers.
Saturday is the ultimate chance for him to seize responsibility in Götze's absence and appease Borussia fans anxious about life after Mario. He may just emerge as Dortmund's own Kaiser.