The Banksy mural, removed secretly from the wall of a Poundland in Wood Green, could fetch up to $1m when it is sold at a London auction this week, as campaigners made last ditch attempts to get the piece returned to its north London home.
According to Bloomberg, the 2012 work 'Slave Labour, depicting a child in a sweatshop sewing Union Jack bunting, could get $1m from an auction at a private sale in Covent Garden, organised by the Sincura Group on June 2.
After being hacked off the wall of the Poundland, it appeared at Fine Art Auctions in Miami, to wave of protests from Haringey Council, Lynne Featherstone MP and thousands on social media.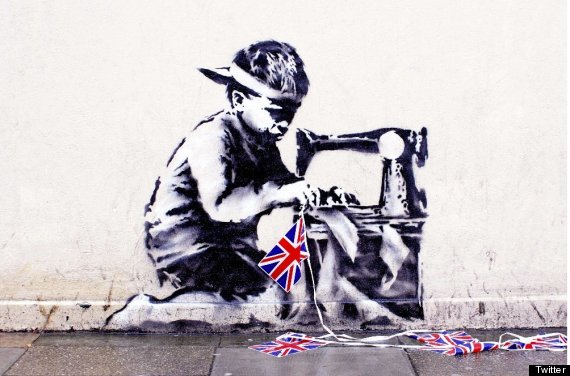 The original artwork on the wall outside Wood Green Poundland
"Our goal is to find a buyer who will keep it in the UK," Tony Baxter, director of the Sincura Group told Bloomberg. "We know the sale of this Banksy has caused great controversy. We've done our due diligence and there is no legal issue."
Haringey TUC Secretary Keith Flett said the reported sale price of $1m "brings clarity to events. No one in their right mind would pay that and simply give the piece back to the people of Haringey. It's time the sale was stopped and the Banksy returned to Wood Green."
Turner Prize winning artist Grayson Perry said the work had been "destroyed" when it was removed from the wall of the Poundland.
Speaking at an event to celebrate 100 years of conservation at Historic Royal Palaces, Perry said: "The most interesting thing about it for me was that Banksy said the minute they dug it off the wall it wasn't a Banksy any more.
"The very fact that they were trying to preserve it actually destroyed it. And that's an interesting dilemma."
The freeholder of the building where the piece was painted is Wood Green Investments, a property firm owned by Essex-based businessmen Robert Davies, 60, and Leslie Gilbert, 49.
Speaking to The Sunday Times, the pair refused to confirm or deny whether they were involved in removing the work or even whether they owned the building.
"We're businessmen, so our primary concern is making money, and I can't see the benefit for us of setting the record straight about this at the moment," said Gilbert.