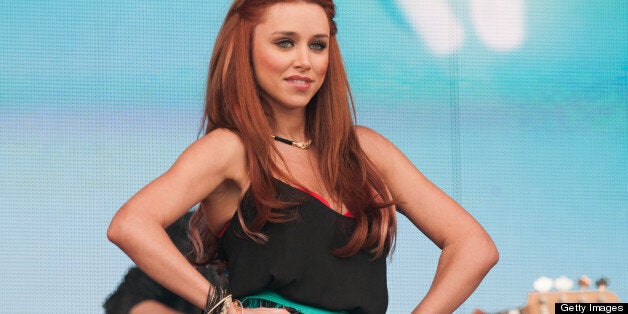 The Saturdays lit up the stage as Radio 1's Big Weekend in Northern Ireland got into gear.
Flamboyant dance routines and a lively performance of their new single Gentleman met an enthusiastic reception in Londonderry.
The festival is being held at the former Ebrington army barracks in the city to coincide with its year as City of Culture.
Thousands of people will attend the three-day long show which kicked off yesterday with performers including Calvin Harris.
Scottish rock trio Biffy Clyro headlined the main stage on Saturday night. Support slots for Bon Jovi led to sold out gigs at London's O2 arena, a successful sixth album, Opposites, and now a headline set in Derry.
They include lead vocalist Simon Neil, bass player James Johnston and drummer Ben Johnston.
The outfit play on a stage dramatically framed by the church spires and riverscape of Derry as well as the serpentine Peace Bridge, opened to symbolise the city's efforts to bridge the gap between nationalists and unionists.
Neil said: "This venue is a spectacular place, it is just such a beautiful part of the world and great to be part of the City of Culture and for Radio 1 to host, this is an amazing event."
He joked: "We have only got an hour, which is a bit of a nightmare when you have six albums."
He reflected on topping the bill. "It is a different kind of pressure but at least the people you are playing to are familiar with your band so that pressure is removed but you are aware that you are ending the day for people and that you need to go out on a high," he added.
Popular in the Community