Members of Drummer Lee Rigby's family visited the scene of his murder in Woolwich, south-east London, on Sunday. They laid flowers at the Woolwich Barracks where the 25-year-old soldier with the Royal Regiment of Fusiliers was based, and where hundreds of floral tributes have already been left by wellwishers.
They hugged and comforted each other as they looked as some of the many thousands of floral tributes that have been left in memory of the soldier. They then crossed the road to look at the exact spot where he was murdered. One clutched a teddy bear, while others held baskets of flowers which they left at the scene. One woman tied a balloon with "dad" written across it. They then spent a few moments in reflection, still clutching each other.
Drummer Rigby's widow Rebecca, clutching a Peppa Pig soft toy, pinned a balloon with the words 'Dad in a million' close to the spot where her husband was killed. The soldier's mother Lyn, 46, holding a teddy bear, and stepfather Ian, 54, consoled each other as they walked along the wall of flowers, while dozens of passers-by lined the street in silence.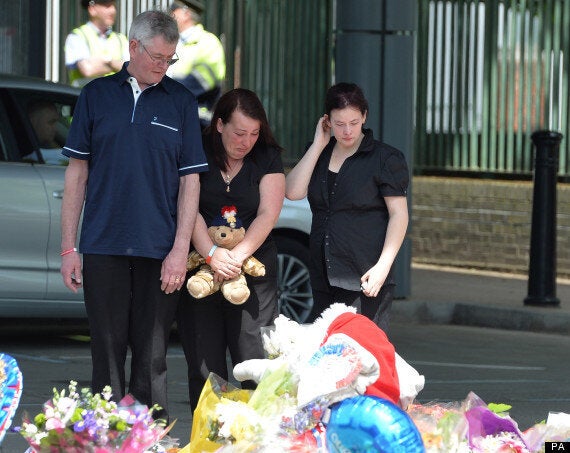 Lyn Rigby, mother of Drummer Lee Rigby, holding a teddy bear
Lyn Rigby collapsed on to the edge of the pavement as she violently wept, and sat on the kerb while other family members wrapped their arms around her. Some of the group appeared too overcome with emotion and got back inside the row of cars that had taken them to the scene. Others then crossed back to the other side of the road, which had been closed by police, where they continued to examine some of the many tributes.
They put their arms around one another and hugged before all getting inside the cars just after 1pm. The vehicles then drove off in the direction of the entrance to Woolwich barracks, just a few hundred yards up the road from the murder scene. The emotional scene was watched by hundreds of members of the public who had also gone to pay their respects to the soldier who was brutally killed on Wednesday.
They were held back by police while the soldier's family visited, and looked on in respectful silence during the 20 minutes they were there. Among them were a large group of people from Woolwich Sikh Temple. Afterwards, Sewa Singh Nandhra got a large round of applause from the crowd of onlookers as he spoke on behalf of the Sikh community and urged everyone to stay peaceful and calm.
"We condemn what happened on Thursday in Woolwich," he said. "It is sheer terrorism, despicable and awful. We condemn violence and all sorts of similar acts. No cause on earth to justify such a killing or an act. Our condolences and sympathies lie with the family. We are parishioners and we have got to work to maintain the harmony between all the faiths and across all communities. We will work with them and I would urge everybody to support police to bring this episode to a satisfactory conclusion."
Members of the family also laid wreaths, marked "son", "husband" and "brother", with red and yellow flowers at the scene. A card tucked inside the wreath marked "husband" also read: "For my daddy". A message on the "husband" wreath read: "My hero, my soldier, my one true love. Until we meet again my angel I know you'll be watching over me and Jack. Love always xxx"
One of Drummer Rigby's sisters also left a photoframe with four pictures of them together in it. She wrote: "My brother, my best friend. So sorry this had to be you. Sleep well. Little sis, Sara xxxx." On the wall next to it was placed a bottle of HP sauce with a note saying "Your favourite. Love little sis Sara." Drummer Rigby's widow Rebecca also tied a card to the signpost near where the soldier died, which read "in memory of my wonderful husband".
Kenyan anti-terrorism police today confirmed that one of the suspects in Drummer Rigby's killing, Michael Adebolajo, 28, had previously been arrested in the country close to the border with Somalia, where al Qaida-linked militant group al-Shabab is based. Anti-terrorism unit head Boniface Mwaniki told the Associated Press he was arrested in 2010 along with five other men, all believed to have been preparing to train and fight with the group. He said Adebolajo was later deported.
A Foreign Office spokeswoman confirmed that a British national was arrested in Kenya in 2010. "FCO provided consular assistance as normal for British nationals," she said.
Earlier, Home Secretary Theresa May said around 500 police and security officers were working on the ''horrific murder'' of Drummer Rigby. May said ''all the indications'' pointed to a lone wolf-style incident rather than a wider planned operation. Asked if she believed there were thousands at risk of radicalisation in the UK, she replied: 'Potentially.' May suggested a lower limit for imposing banning orders on extremist groups could be introduced.
She told the BBC's Andrew Marr Show: ''We do need to look at the powers, we do need to look at the laws. ''We do need to look, for example, at the question of whether perhaps we need to have banning orders to ban organisations that don't meet the threshold for proscription.''
Tighter rules could also be imposed on internet service providers, the Home Secretary suggested. She added: ''One of the issues we need to look at is whether we have got the right processes, the right rules in place in relation to what is being beamed into people's homes.''
May defended the ''excellent'' work of the security and intelligence agencies in the face of claims mistakes were made in the handling of the two suspects, identified as Adebolajo and Michael Oluwatobi Adebowale, 22, who were known MI5.
A childhood friend of Adebolajo has also claimed that the suspect was approached by MI5 six months ago and asked if he would work for the security service. Detectives have made three further arrests in connection with the brutal killing. Two men, aged 24 and 28, were detained at an address in south-east London yesterday, while a 21-year-old man was arrested in the street in Charlton Lane, Greenwich, all on suspicion of conspiracy to commit murder. Lee Rigby's widow Rebecca, clutching a Peppa Pig soft toy
Police from the Counter Terrorism Command, supported by specialist firearms officers, used Tasers to detain two of them, the 21 and 28-year-old. They did not need hospital treatment. The arrests came as Downing Street confirmed the launch of a new terror task force to crack down on extremism.
The group, comprising Cabinet ministers and top police and security service officials, will focus on radical preachers who seek out potential recruits in prisons, schools, colleges and mosques. The Prime Minister has also announced that the parliamentary Intelligence and Security Committee (ISC) will carry out an investigation following the disclosure that Adebolajo and Adebowale were known to MI5.
Police last night refused to comment on reports that Adebowale was arrested two months ago. Authorities in France are also investigating whether the murder of Drummer Rigby was linked to an attack on a French soldier, who was stabbed in the neck in a busy shopping area near Paris yesterday.
The latest arrests in London occurred between 6pm and 6.30pm, and the three men are being held at a south London police station, Scotland Yard said. Officers were last night searching four addresses in south-east London. Searches have also taken place at three other addresses in south London, one in east London, one in north London and one in Saxilby, Lincolnshire, the
former home of Adebolajo.
A 29-year-old man arrested on suspicion of conspiracy to murder has now been released on bail, police said last night. Two women aged 29 and 31 have been released without charge after they were held on Thursday on suspicion of conspiracy to murder, and a number of other people not directly involved with the attack have been charged over malicious comments made on social networking sites.
Adebolajo and Adebowale remain in a stable condition in hospital after being shot by police when they charged towards armed officers in Woolwich on Wednesday. Drummer Rigby was hit by a car and then attacked with weapons including a knife and a meat cleaver. The cause of his death has not yet been confirmed by a post-mortem examination.
The young father's murder has provoked a backlash of anger across the country, with mosques being attacked, idespread racial abuse and comments on social media and a large increase in anti-Muslim incidents.