The English Defence League has marched through Whitehall to Downing Street in response to the killing of drummer Lee Rigby in Woolwich last week.
The group met at a Wetherspoon pub close to the cenotaph on Monday afternoon before beginning their march, with reports they were singing God Save The Queen and chanting 'E E E EDL' as they started their route, surrounded by police.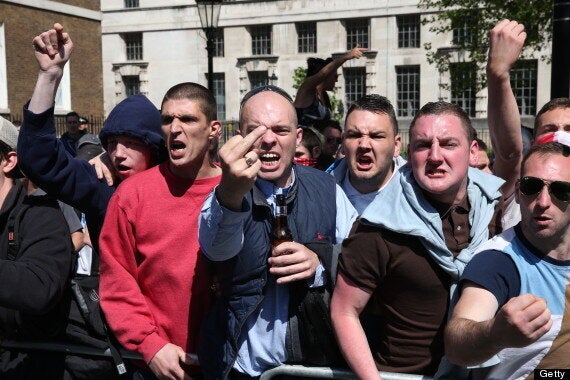 The group gathered at a Wetherspoons pub before setting off
Protesters chanted "Muslim killers off our streets" and "There's only one Lee Rigby" holding placards that read "Blood on your hands" and "GB RIP".
They were also heard chanting "We hate David Cameron".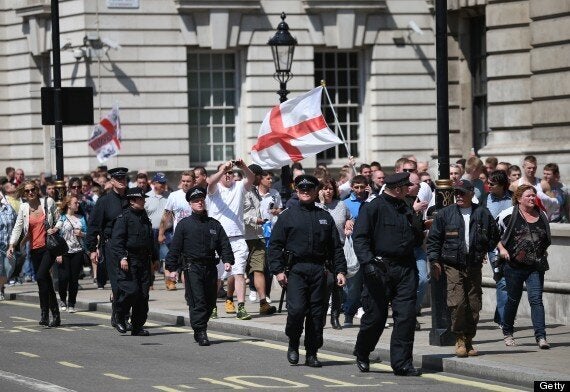 Police have escorted the protesters through the streets
A massive police presence kept them separate from a smaller group of anti-fascist activists, with officers making 13 arrests in total for a range of public-order offences.
The demonstrators marched through Admiralty Arch and onto Parliament Square.
They were escorted by Metropolitan Police officers and vans, while a force helicopter followed overhead.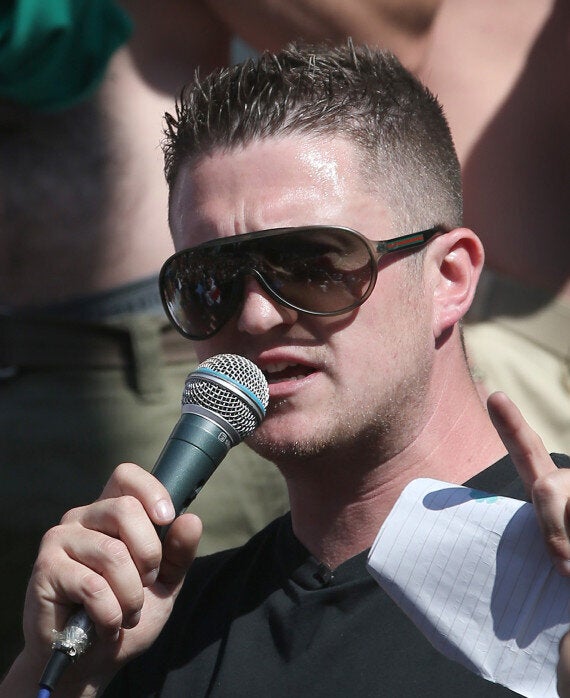 The EDL leader called for an 'English Spring'
EDL leader Tommy Robinson told the demonstration: "This is a day of respect for our Armed Forces."
The crowd repeatedly chanted "coward" after he claimed Prime Minister David Cameron was on holiday "because he doesn't care".
Mr Robinson added: "They've had their Arab Spring. This is time for the English Spring."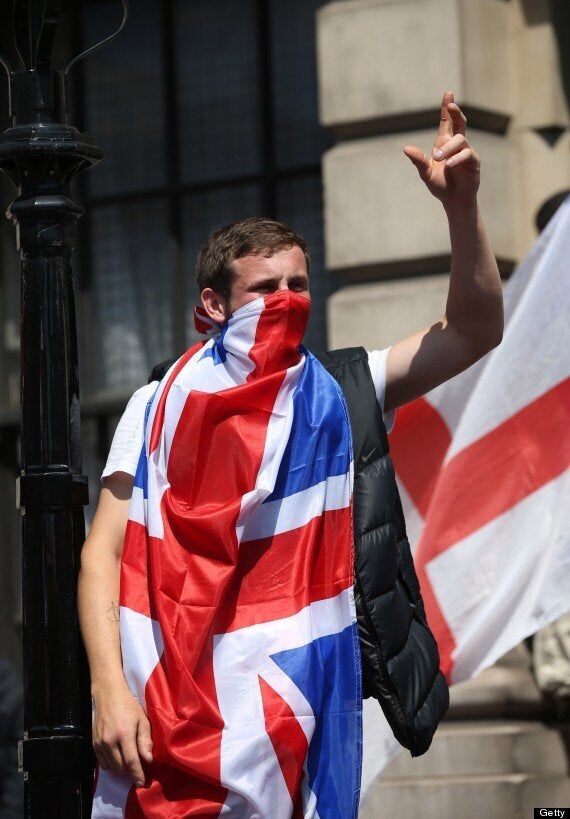 Protesters plan to end the march at Downing St
A smaller group of Unite Against Fascism conducted a separate march to protest against the EDL, gathering opposite the group holding "EDL Racists" banners.
Both sides traded insults but were kept apart by officers and barriers.
Pictures show the police presence is even larger than either group, in a bid to keep them separated.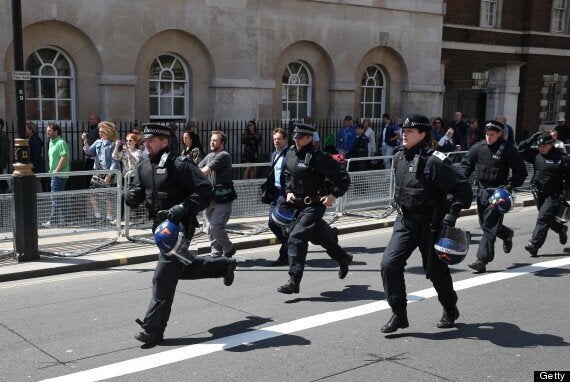 There is a large police presence on the streets
Journalist Laurie Penny, who is at the scene, has been tweeting updates.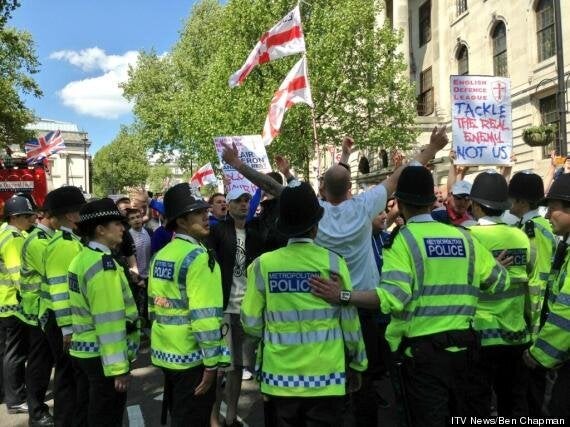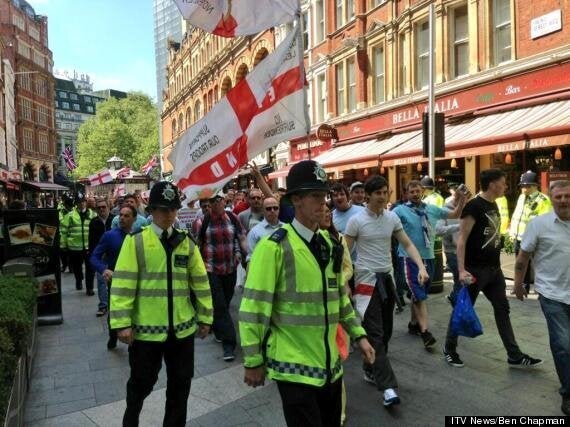 Photos courtesy of ITV/Ben Chapman
UAF said in a statement prior to the march:" We reject the attempt by fascist organisations such as the English Defence League and British National Party to exploit the murder [of Lee Rigby] to whip up racism and direct hatred towards all Muslims. "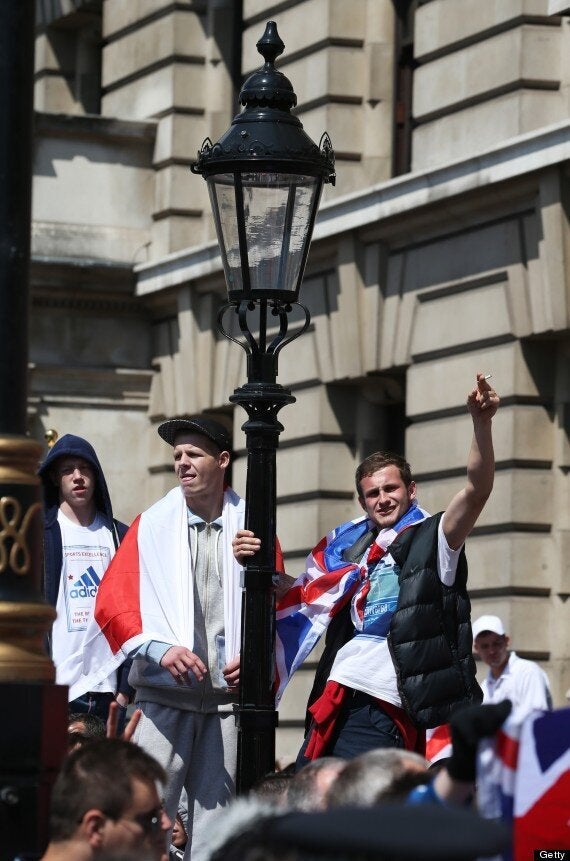 Protesters chanted 'There's only one Lee Rigby'
Separately on Monday vandals attacked two war memorials in central London.
Although the words written on the two memorials have now been covered up, it is thought "Islam" had been written on the RAF Bomber Command War Memorial and the Animals in War Memorial .
The incidents are being treated as criminal damage, police said.