The show – named Langs de Leeuw – saw a "host" visiting supposed contestants from different countries, and featured actors waving knives and cleavers dripping with fake blood at Great Britain's table.
The clip is an obvious nod to the footage of suspected killers Michael Adebolajo and Michael Adebowale, who addressed cameras at the scene, promising to "never stop fighting".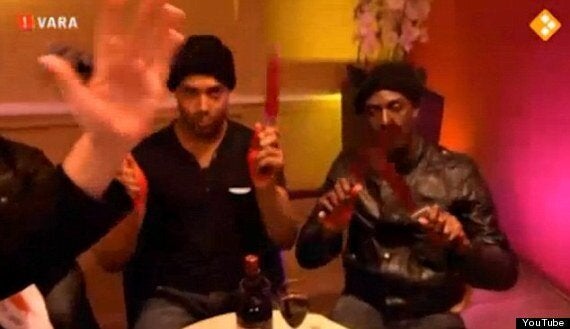 Two actors hold fake knives and cleavers dripping with blood in a sketch from the Dutch show Langs de Leeuw
Host Paul De Leeuw is seen laughing at and applauding the sketch, which was screened on Holland's VARA channel.
The 25-year-old, who was wearing a Help for Heroes t-shirt, was attacked with a machete just yards from the Royal Artillery Barracks.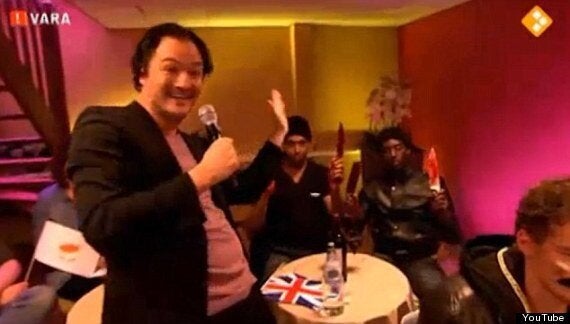 The show sees a 'compere' approach the England table in a Eurovision Song Contest spoof, before he runs off screaming
On Tuesday detectives were questioning a tenth person in connection with the murder.
According to The Sun, the sketch sparked a flood of complaints. It quotes SAS hero Andy McNab as saying: "I was made aware of this by Dutch friends who were appalled.
Twitter users expressed outrage online
"Thankfully, that's the reaction of most Dutch people. They are furious as people in Britain would be.
"Those responsible are idiots. It was a cheap shot and it wasn't funny."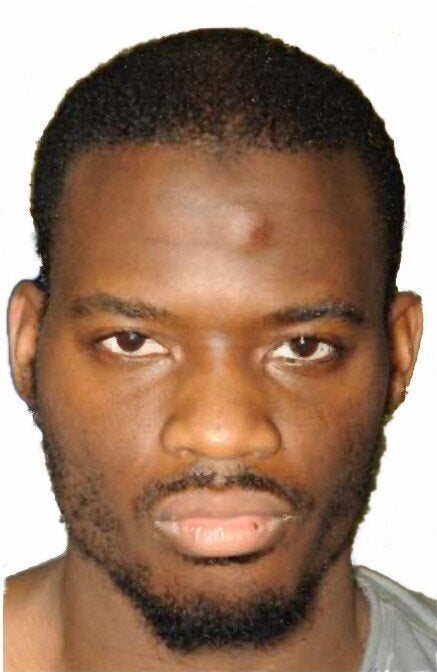 (GRAPHIC WARNING) Woolwich attack: Lee Rigby Murder