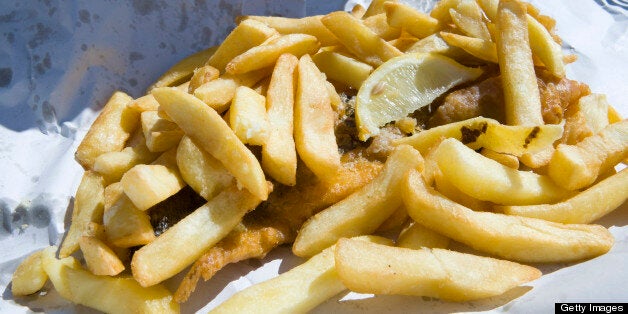 Selling hot food, including chips, to school children before 5pm could be banned in controversial measures being considered by a council, in an effort to curb childhood obesity.
Any new takeaways, kebab shops and fast food restaurant such as McDonalds could all be banned from serving hot food over the counter during school hours, reports the Manchester Evening News.
Councillor Margaret Morris, assistant mayor for health at Salford council, told the newspaper: "Takeaways create jobs and provide a service but these ideas are to make sure that they are opening in the right places and not having a negative impact in our city.
"We don't think they should be serving hot food over the counter before 5pm near schools, as children should be encouraged to eat healthily, so we have made this clear in our proposal."
But some local business owners in the area have described the proposals as "ridiculous".
Jazz Caur, the manager of Subway store next to a school on Hankinson Way, told the Huffington Post UK: "Would they rather not have our money and lose our business altogether? Most of these kids don't have breakfast and they come to my shop for a sausage butty. The kids tell me they just serve junk food at school anyway. We're probably healthier than that."
Andrew Crook, treasurer of the National Association of Fish Fryers told Huff Post UK: "Fish and chips aren't as unhealthy as people are led to believe.
"The majority of children pass by takeaways in the morning with sugary drinks and sweets having been to the newsagents. Are they going to ban Tesco Express and newsagents as well?
"We would definitely be in opposition to the proposals. This is something schools should be monitoring, not takeaways."
Currently Salford council is asking the public what it thinks of the proposals before enforcing the rules, which would only apply to new takeaways within 400m of schools.
The proposal has caused uproar on social media sites, with one Twitter user calling the idea "Madness", while another accused the council of behaving like a 'nanny state.'
One even suggested it was only a matter of time before illicit chip dealers started selling fried snacks on street corners.
At the same time as cracking down on takeaways, new planning proposals include lifting a ban on takeaways next to residential houses because extractor fans have improved as well as striking out a healthy eating clause because councils say it is "unenforceable."
NHS estimate that 17% of boys and 15% of girls in England are now obese and Salford council is not alone in coming up with unusual solutions to tackling the obesity crisis.
A report 'A Dose of Localism: The Role of Council in Public Health', suggested GPs should prescribe exercise as treatment for some conditions - and councils could monitor patients, rewarding those who take activity while restricting payments such as council tax and housing benefit for those who do not.
The report said Oyster-style smart cards, used to access gyms and leisure facilities, could provide councils with data on whether benefit claimants take exercise - with the council using a 'carrot and stick' approach to penalise those who do not.