Sue Sylvester has brought her tracksuit and neurosis into our hearts as the megaphone-touting cheerleader coach in the world of 'Glee', but the actress behind this extraordinary character is no less distinctive.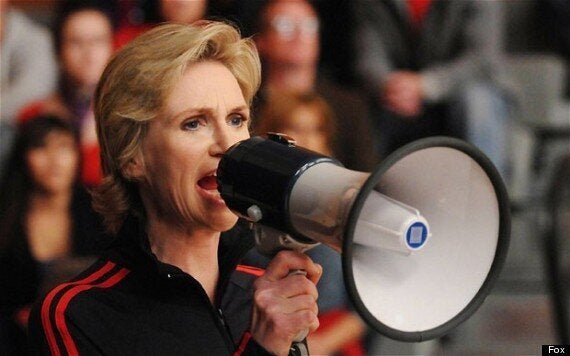 Lynch as we're familiar with her, giving it her all in 'Glee'
Jane Lynch's latest project, that of voicing Sergeant Calhoun for the Disney adventure 'Wreck-It Ralph', finds her operating at the top of her vocal powers - no megaphone needed. Calhoun is the voice of authority in this arcade-hopping adventure, which finds John C. Reilly as Ralph, the arcade villain fed up with being the bad guy, who decides to take matters into his own hands.
Lynch tells HuffPostUK about the surreal nature of this kind of adventure...
"It's mind blowing. Imagine it for yourself... Your voice coming out of the mouth of a gorgeous, hot woman. I love it. She's just like me 20 years ago with a kickass body."
"Plus, it's a Disney movie and the reality of that is slowly dawning on me. This will be on the same shelf as 'The Aristocats', 'Jungle Book' and 'Cinderella'. That's pretty amazing."
How much input did you have into your character?
[Wreck-It Ralph director] Rich Moore is the nicest man in the world and he encouraged us to improvise all the time. He would say, "If this line doesn't feel right in your mouth, pick another way to say it." They were really open for it to be our own voice - but the writing, especially as the script progressed, became more and more our voices. The characters also started to look more and more like us because they videotaped us while we recorded our lines. They are geniuses over there at Disney. They really allowed themselves to be moved by and shaped by whatever they saw on the videotapes of our sessions. It was pretty amazing.
What surprised you the most about the animation process?
I guess I was surprised at how much my character ended up looking like me. Not that my body looks like that! Sergeant Calhoun moves her mouth in a certain way, which is exactly how I talk.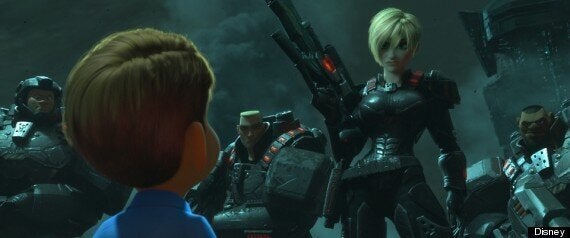 Jane Lynch in action as Sergeant Calhoun in 'Wreck-It Ralph'
What did your character look like when you first signed up for the project?
She looked a little generic back then; she didn't look like me. I think she was always a blonde, but she wasn't that curvaceous. That haircut is new, too. What a cute little bob!
Did anything else surprise you about the movie?
I knew the movie would be visually gorgeous, but the story really moved me. I think the message is so good and so powerful. However, I did not expect to be shedding tears at the end of the movie, but I was. I was really touched. I loved the relationship between Ralph and Vanellope, and how my character finally opens her heart.
Calhoun is funny, sensitive and tough. Was that fun for you?
It was great. They gave me a great backstory where Calhoun doesn't see vulnerability as strength, but she learns on her journey that having her heart open is not a sign of weakness. She felt so guilty about allowing the Cy-Bugs to kill the love of her life, so she committed herself to the destruction of the CyBugs to make it right. Then along comes this little, sweet, open-eyed guy who she can't allow herself to love - but of course she ultimately does.
What would Ms Sylvester have to say?
Jane Lynch voices Sergeant Calhoun in Wreck-it Ralph out on Blu-ray and DVD on 3 June